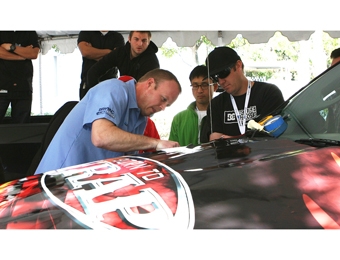 Roland DGA is expanding its popular Born-to-Wrap training series to include an Advanced Wrap class taught by the vehicle wrap experts at Digital EFX Wraps. The comprehensive, two-day workshop, which will take place June 24-25 at Digital EFX Wraps' headquarters in Louisville, Kentucky, goes beyond basic wrap principles to help attendees bring their wrap businesses and profits to the next level.
"One of the most common requests we get from the hundreds of people that have completed our basic Born-to-Wrap trainings, is for a follow-up course to help them further advance their skills," said Matt Richart, co-founder of Digital EFX Wraps and Born-to-Wrap Workshop leader. "So, we developed this particular course to specifically satisfy that demand."
Roland's Advanced Born-to-Wrap workshop will combine classroom instruction with hands-on instruction in a real-world shop environment. Attendees will gain extensive information and skills that will enable them to refine their skills, expand their businesses by handling increasingly challenging vehicle wrap assignments, and get the most out of Roland's advanced wide format digital printing equipment. They will also walk away with a treasure trove of marketing and operations tips for running a successful vehicle wrap business.
"This course is the perfect platform for wrappers that want to increase their knowledge, learn how to properly perform more complex installations, market their services effectively, and maximize shop efficiency and profitability," noted Richart. "Over the course of two days, we'll teach our students valuable skills and useful tips and tricks that it took us years to figure out. The workshop is designed not only to increase their vehicle wrapping proficiency, but also to help them grow their respective operations, differentiate from the rest of the market, and build sustainable business for the future."
To learn more about Roland's Advanced Born-to-Wrap workshop, or to register for the training, call 800/542-2307 or click here.