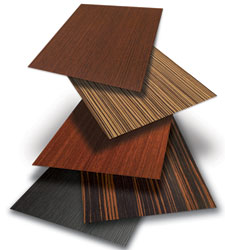 Treefrog
is offering new, reduced prices on all Treefrog Veneer Laminates. Some items are priced up to 20% off, though most are about 10% off. To lower prices, Treefrog has taken advantage of exchange rates. These prices will only last for about 3-6 months.
Treefrog Veneer is a complete collection of 49 prefinished real wood veneer laminates. The laminates are available in pre-finished, post-formable, HPL-backed, furniture-grade 4-foot-by-8-foot sheets. These real wood veneer laminates may be run vertically or horizontally to create ideal backgrounds for interior signage.
Treefrog is a division of Chemetal, the metal laminate company. For product specific pricing, contact Treefrog or your Treefrog distributor today.