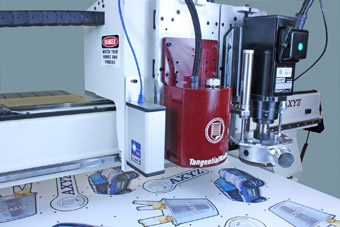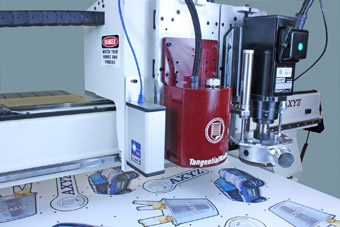 Owners of high-performance CNC routing machines supplied by AXYZ International can now benefit from the new AXYZ Vision System (AVS). It uses a low-cost camera that can be easily mounted on the head of the machine either as an optional new production feature or as an upgrade to existing installations.
The power behind the AVS emanates from the dedicated software that is fully integrated within the recently launched A2MC machine control software. Currently, the primary application for the AVS is in digital print finishing where the camera is able to instantly recognise conventional registration marks and adjust the machine's cutting path accordingly to achieve exact alignment with printed shapes.
The AVS is compatible with all of the cutting tools (for example, oscillating, tangential and drag knife systems) that can be used on any AXYZ machine. This enables the cutting of virtually any printed material (for example, card, vinyl, rubber, foam, aluminum, wood, and acrylic) and thus opens new markets and business opportunities for sign and graphics and digital print producers.
All program adjustments are made by the AVS via the machine controller at the time of cutting and are therefore separated from the initial tool path creation that can be achieved in any machine programming system. This means that a wide range of programming features can be made available to enable the cutting of specific materials or shapes and to achieve the optimum edge finish.
In driving down the cost of the AVS, AXYZ International has enabled customers to increase the flexibility and production capabilities of their machines by further reducing waste and increasing output with an enhanced level of accuracy.
For further information, visit www.axyz.com.