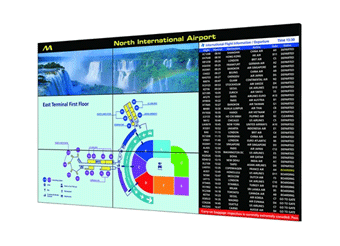 Sharp Imaging and Information Company of America (SIICA), a division of Sharp Electronics Corporation, is excited to unveil its full line of professional LED displays in the U.S., now available in screen size classes of 60-, 70- (69-1/2-inch diagonal) and 80-inch at the 2012 Digital Signage Expo. You can see the new line of LED displays at the Sharp booth
(#1300
).
In addition to featuring a variety of impressive screen sizes, Sharp's displays feature advanced photo alignment technology that creates brilliant color images with maximum impact. Sharp's professional line of displays are engineered to meet the demands of a wide range of digital signage applications and offer spectacular full-color HD images, portrait and landscape mode compatibility, and 24/7 reliability.
The monitors display stunning video, graphics, text and more using Sharp cutting edge display technology in full 1080p HD. The new line is best suited for public environments such as hotel lobbies, conference areas, shopping malls, transportation hubs, and sports and entertainment facilities.
"The products we are showcasing demonstrate Sharp's dedication to bringing high quality, energy efficient technology to the digital signage space," said Doug Albregts, president of Sharp Imaging and Information Company of America. "From professional LED displays to interactive display systems to video wall displays, all of the products we are presenting at Digital Signage Expo are designed to help businesses effectively and efficiently communicate in an integrated way."
AQUOS BOARD™ Interactive Display Systems, Sharp's interactive touch-panel displays, now available in screen size classes of 60, 70, and 80-inches, will also be featured at the Expo. Sharp AQUOS BOARD Interactive Display Systems will also be featured as an interactive signage tool in twelve booths throughout the show.
Details of the technologies showcased at Digital Signage Expo:
PN-E Series. Sharp's new PN-E line of large-format professional 60-, 700, and 80-inch class LED monitors are designed to work virtually wherever, whenever, and for whatever the need is. These durable LED monitors are ideal for use in most any demanding environment that requires around-the-clock operation seven days a week. Versions of all screen sizes are also available with integrated protective overlays offering enhanced durability in high-traffic applications. 24/7 certified, these commercial displays are backed by a three-year on-site limited warranty covering parts, labor and backlight.
AQUOS BOARD Interactive Display Systems. Sharp's state of the art interactive displays bring big screen collaborative technology to the workplace, with the 60-, 70-, and 80-inch class AQUOS BOARD line. Sharp's LED Backlit Touch-Panel Display is a complete interactive and digital solution for collaborative meetings, presentations, video conferencing, live data and interactive digital signage.
This digital meeting solution offers full HD 1920 x 1080 resolution, providing a higher quality visual display than a traditional projector, in addition to the touch-screen capabilities, creating a truly hands-on experience.
Video Wall Display. The brilliant PN-V602 Video Wall Monitor (pictured, top) combines the world's slimmest bezel available* on a 60-inch class (diagonal) LCD monitor with high brightness for semi-outdoor environments. With 24/7 reliability and an almost seamless bezel (just 6.5 mm total between neighboring monitors), the PN-V602 sets a new standard for video wall displays.
A full-array LED backlight helps ensure uniform brightness.
Outstanding black levels are delivered via local dimming that allows specific groups of LEDs to be dimmed for greater control of brightness and darkness in different areas of the screen. Local dimming also helps deliver a remarkably better contrast ratio (up to 1,000,000:1) and brightness (up to 1,500 cd/m2) compared to conventional LCD monitors, while utilizing significantly less power.
Professional Outdoor Signage. Sharp's 60-inch (diagonal) PN-A601 is compelling signage, best used for shopping malls, transportation hubs, college campuses, and sports and entertainment facilities where high-ambient light may be prevalent. This 60-inch (diagonal) LED-LCD monitor offers ultra-high brightness of 2,000 cd/m2 for superb visibility, even in brightly lit and high ambient light settings. The PN-A601 also provides exceptionally high image quality in full 1080p HD, with the energy savings of a full-array backlight in combination with local dimming.
All resellers, contractors, integrators and consultants attending Digital Signage Expo are encouraged to register into Sharp's Certified Reseller Program for the chance to win an iPad® 2.
For more information, call 866/4-VISUAL (866/484-7825) or email [email protected].
* Based on available information, as of September 1, 2011, for LCD panels of 60-inches or larger in size.