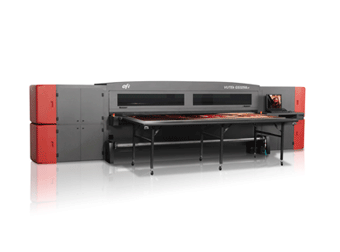 UniGraphic Inc., a full-service, one-stop marketing fulfillment shop offering the highest-quality products and services, has experienced explosive growth. While tripling their revenue in the last eight years, the company is currently experiencing their best year ever. For over forty-five years, this results-driven company has been delivering digital printing, commercial printing, and customer delivery services to prominent brands across North America. Now UniGraphic has announced the next step in revolutionizing its Large Format printing business with the implementation of the new EFI VUTEk® GS3250LX printer that offers expanded capabilities along with UniGraphic's state-of-the-art production equipment—including the VUTEk 5330 and VUTEk QS3200.
With the addition of the EFI VUTEk® GS3250LX, UniGraphic advances its capabilities in large format media design and production. Clients from major advertising firms and retailers have been requesting the ability to produce higher quality images even faster to enable the national launch of retail marketing campaigns.
"The VUTEk GS3250LX represents a powerful extension to UniGraphic's full-service large format solutions, maximizing our speed, flexibility and accuracy from production to fulfillment and into retail outlets," said Bob Quinlan, president of UniGraphic. "This new printer nearly quadruples our capacity to deliver simultaneous campaign materials to national retail chains.
"Our clients are constantly demanding expanded reach in producing their retail point-of-purchase displays, and EFI offers us the technology to meet this need."
With its innovative ink-curing system, the VUTEk GS3250LX is consistent with UniGraphic's commitment to green technology as it contains no VOCs, uses less consumables, produces less waste, uses less energy, and has the ability to print on recycled and other materials with ease. UniGraphic is reducing its impact on the environment through responsible choices in equipment and supplies.
Meeting their increased demand for large format printing, UniGraphic recently added the world-class EFI VUTEk GS3250LX digital printer to its already extensive suite of digital print equipment. The GS3250LX boasts innovative digital advancements with significant increase in production speed combined with true 1,000 DPI print capability. This enables UniGraphic to quickly achieve consistent print photo-quality images, crisp text, vibrant colors and advanced three-layer white ink printing on an extended range of supported substrates. VUTEk's innovative ink curing technology delivers high quality and high adhesion in order to maximize the visual allure of promotional materials, from window clings, exhibits and in-store signage to POP/POS displays, billboards, and fleet graphics.
"EFI is dedicated to advancing the possibilities of large format marketing with technologies that provide the marketplace, including our partners like UniGraphic and their customers, creative flexibility, superior visual quality and efficient operations," said Ken Hanulec, VP Marketing Inkjet Solutions, EFI. "We couldn't be more pleased that UniGraphic elected to add our latest high-quality LED based VUTEk printer to their production capabilities, enabling the company to enhance its position as an industry leader throughout North America."
For more information on UniGraphic's integrated marketing products capabilities—including the new VUTEk GS3250LX Printer—call Brian Hegan at 781/231-7200 or visit www.uni-graphic.com.
For further details about the VUTEk GS3250LX Printer and EFI, call 800/875-7117 or visit www.efi.com.