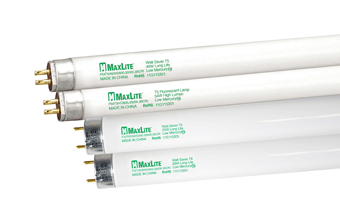 Building on its complete line of energy efficient fluorescent lamps, MaxLite unveils new T5 "Watt Saver" Fluorescents for commercial, industrial, and general lighting applications in office, retail, hospitality, warehousing, factory, school, and hospital environments. MaxLite, a global manufacturer and marketer of energy-efficient luminaires and lamps, has added T5 49-watt "Watt Saver" Fluorescents that enable ESCOs (Energy Service Companies) and other organizations to significantly reduce overall power consumption and lamp efficacy in large projects seeking LEED (Leadership in Energy and Environmental Design) Certification, a rating system created by the United States Green Building Council (USGBC).
MaxLite's T5 Fluorescents, which are approximately 40 percent smaller than T8 lamps and 60 percent smaller than T12 lamps, offer a full spectrum of light with three color temperatures and a high CRI (color rendering index). The T5 Fluorescents save up to 50 to 70 percent in energy costs while extending lamp life to 20,000 hours with up to 94 percent lumen maintenance. The T5 Fluorescent family already includes 54-watt High Output lamps with color temperatures of 3000K, 4100K and 5000K while delivering 5000 lumens and a CRI of 85. The new T5 49-watt Fluorescent "Watt Savers" are available with color temperatures of 3000K, 4100K, and 5000K while delivering a powerful lumen output of 4700 and a CRI of 85.
With low mercury content, T5 Fluorescents are constructed with ultra fine rare earth phosphors, an extremely fine mix that produces an even coating on the glass to maintain high lumen maintenance and CRI while minimizing black banding. MaxLite's electronic ballasts improve profitability and lower maintenance man-hours. The T5 Fluorescents are engineered with instant start features and operate on 120- through 277-voltage systems at climate temperatures ranging from 0°F to 100°F.
When used with MaxLite's popular linear line of HighBay lighting fixtures, T5 Fluorescents can prove to be highly energy efficient. Operating 12 hours/day at the national average utility rate of $.15/kWh, consumers can see a fast ROI by swapping out inefficient HID lamp and ballasts with energy efficient T5 Fluorescent lamps. For example, if 700 existing 400-watt HID with a 50-watt ballast was replaced with six 49-watt or 54-watt Fluorescent lamps, consumers can see an energy savings of 116 and 90 watts per.
In addition to T5 Fluorescent Watt Savers, MaxLite offers a super-efficient F32 T8 28-watt Linear Fluorescent "Watt Saver" Lamp that saves 12.5 percent in energy costs over a standard F32 T8 while attaining 2725 lumens. The lamp is low in mercury, TCLP compliant and has a long life of 24,000 hours. For general, commercial and industrial lighting needs, the lamp can be used with
instant start ballasts, and is offered in three colors: 3500K, 4100K and 5000K. To optimize watts savings even further, MaxLite also offers a 25-watt "Watt Saver" F32
T8 that saves an additional three watts per lamp and produces a total of 25 percent
savings over a standard F32 T8 lamp.