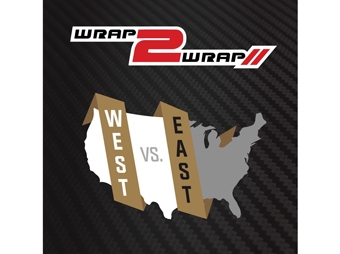 When artists compete, the culmination of their specialized talents and work ethics lead to creations of epic proportions. For graphics installers, no stage is better suited to showcase their artistry and skill than the 3M Wrap2Wrap Battle. Using 3M™ Wrap Film Series 1080, graphics installers are invited to compete in an East vs. West Battle, with five knockout rounds beginning August 3, with the final two contenders facing off in a head-to-head competition live on Thursday, November 5, at the 2015 SEMA Show in Las Vegas, Nevada.
The Wrap2Wrap Battle is an open competition between installers of 3M™ Wrap Film Series 1080 throughout the United States, and also provides fans the opportunity to get involved and vote for the wrap of their choice. In addition, the 3M Wrap2Wrap Battle is decided with a live wrap competition, not just pictures.
"After the success of last year's inaugural Wrap2Wrap battle, we're excited to see the skill and craftsmanship presented by this year's contestants," said Doug Blackwell, Business Development Manager, 3M. "The 3M Wrap2Wrap Battle is a celebration of the talent in our industry. Not only do we incorporate 3M design managers as part of the judging panel, we also provide an opportunity for car enthusiasts to vote for their favorite design and a live wrap competition."
Online voting throughout four rounds will give graphics installers a chance to showcase their exceptional work, and will determine the finalists from both the East and West regions. The top finalists from the East and West regions will receive an all-expense-paid trip to the 2015 SEMA Show to star in a live wrap battle on November 5.
During this final live round, contenders will direct 3M Preferred Graphics Installers on the SEMA Show floor. A panel of celebrity and expert judges will help determine the 2015 champion, including:
* Rutledge Wood, Host of Top Gear and Motorsports Reporter for NBC Sports;
* Jeremy McGrath, AMA Supercross Champion:
* "Hot Rod Ali" Youngblood, Hot Rod Race Car Driver
* Steve Hargitai, 2014 Wrap2Wrap Winner and
* Adam Sumner, 3M Authorized Trainer
Graphics installers may enter the Wrap2Wrap battle beginning August 3, by visiting Wrap2Wrap.3M.com to submit before-and-after photographs of a vehicle wrapped with 3M™ Wrap Series Film 1080. Points will be awarded for submitting the requested photos, public votes, quality of wrap, and overall look and appeal to advance submissions to the second battle round.
Stay up-to-date with the contest and learn more about the judges and more than $30,000 in prizes by following the 2015 Wrap2Wrap Battle on Facebook, Twitter, and Instagram using the hashtag #Wrap2Wrap.