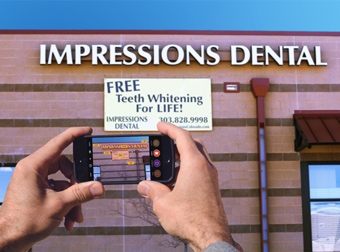 ikeGPS announces an agreement with Franchise Services Inc. to provide advanced signage measurement technology to FSI's brands of marketing, sign and print centers Sir Speedy, PIP and Signal Graphics.
Under this agreement, Sir Speedy, PIP and Signal Graphics locations can enhance their business processes with Spike, a laser accurate Smartphone measurement solution. Spike allows sign makers to quickly and easily measure signage locations by capturing the width, height and area of a space from a picture with a Smartphone or Tablet. This technology saves sign companies time while cutting costs, and there's no need for a ladder or tape measure to create estimates.
Sign makers can also save measurements on Spike and send dimensions via email to customers or designers to create proofs, assess installation or complete permit applications. Photos are available for remeasuring at any time, so there's no need to return to the site for additional signage estimating.
"We have one Spike for each of our centers," says Greg Mullis, production manager of PIP Triad in Burlington, North Carolina, and Greensboro, North Carolina. "Now, instead of sending a production employee to conduct a site survey, our sales team can meet with the customer, take photos of the space using the Spike tool, and easily capture all the necessary measurements for their estimates. This has resulted in being able to drastically speed up and streamline our estimating process."
"With ikeGPS, our franchisees have access to the industry's latest technology that not only saves time and money but also improves efficiency," says Dave Sigafus, director of business development at FSI. "By offering faster turnaround times on estimates, our Sir Speedy, PIP and Signal Graphics locations can better serve the needs of our customers seeking high-quality yet affordable signage solutions."
ikeGPS will exhibit Spike at FSI's upcoming 2015 Vendor Show at the Walter E. Washington Convent Center in Washington, D.C., July 30-31. Show attendees can visit ikeGPS at booth 624 for live Spike demos and a special vendor offer.