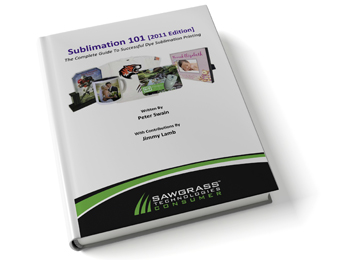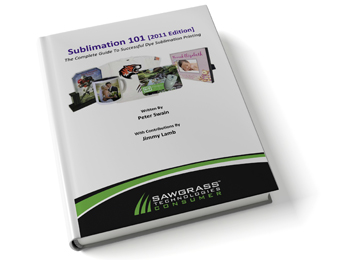 Sawgrass Technologies, a world leader in the development of innovative on-demand digital printing technologies, is excited to announce their upcoming release of
Sublimation 101, The Complete Guide to Successful Dye Sublimation Printing
. Sublimation 101 is a must-have reference for every sublimator and aspiring digital decorator.
With over sixty pages, Sublimation 101 is chocked full of useful information from cover-to-cover; this in-depth informational e-book will give you the answers to all of your sublimation challenges. And best of all, Sawgrass Technologies Social Networking Friends can receive a Complimentary Pre-Release Copy simply by following Sawgrass on facebook or twitter by February 1st!
"Sublimation 101 eBook is yet another way we try to add real value to our social media connections," said Mike McEvoy, director of Marketing Communications for Sawgrass Technologies.
Key topics include: Color Management, Preparing Images for Printing, Understanding Light and Color, Vector Images VS Bitmap images, The Mechanics of the Sublimation Process, and How-to Applications for Sublimation Production.
For more information, visit www.sawgrassink.com.