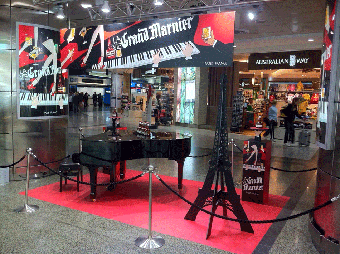 Wasatch SoftRIP's powerful workflow tools, ease of use, and intuitive layout features made it the perfect RIP software solution for OSS Digital, an Australia-based print shop that provides a wide range of services. "Wasatch is much easier to use than the other RIPs we've had," says Chris Freeman, Printer Manager. "Workflow is simple with Wasatch."
OSS Digital uses Wasatch SoftRIP to drive their two HP Designjet L25500 printers, two HP Designjet Z6100 printers, HP Scitex LX600 printer, three HP Designjet 5500 printers, Océ Arizona 250 GT UV flatbed printer, two Zünd L-2500 digital flatbed cutters, and a Fotoba Digitrim 62 cutter.
With SoftRIP and the panoply of printers and cutters at their disposal, OSS Digital is equipped to handle all the large format digital printing, offset printing, P-O-P display printing, photographic printing, fabric and textile printing, and direct-to-rigid printing that comes their way.
Using SoftRIP's tiling tool, the direct-to-layout feature, and the Wasatch Tracer, OSS Digital has been able to customize their workflow to make it efficient and productive. "SoftRIP's direct-to-layout workflow is invaluable," says Freeman. "We can easily add spacing between images, move images around, and utilize the Smart Nesting feature to save time and money."
The Table Cutting Option has also played an integral role in making OSS Digital's workflow more efficient. This feature automatically prints barcodes in the margins of jobs and names output files to allow the table cutter to find the correct match without operator intervention. This saves time and prevents costly mistakes.
With SoftRIP's tiling tool, OSS Digital can easily produce the prints that cover the windows of a large department store in the heart of downtown Sydney. Typically, they make five or six tiles and generate a cut path with the Tracer. Using the Wasatch Tracer, they are able to bypass the need to use a third party graphics application, which saves them a lot of time. "Wasatch works flawlessly between the Tracer and the Layout window," says Freeman.
Using SoftRIP's spot color controls, OSS Digital can direct output to special print heads, change colors to reflect new job requirements, or tweak colors to fix errors in incoming files.
They also use SoftRIP's color management tools to achieve consistent color on the jobs that have to match, such as the large department store window graphics that have been tiled or different display elements that appear next to each other in a retail setting. "With Wasatch, we get consistent color with different inks and substrates without any problems," says Freeman.
Located in Leichhardt, Australia, OSS Digital provides collateral management services, including retail design, tradeshow booths, creative design, print production, and graphic design. In business for over twenty-five years, and staffed with nearly forty employees, OSS Digital supports clients from concept through production to final installation. To learn more, visit www.osspartners.com/staging.