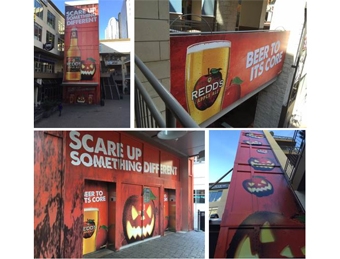 SpeedPro Imaging has named the winner of its inaugural Project of the Year Award. Brion Blais, president and owner of SpeedPro Imaging Charlotte Center, won the Project of the Year for his work at the EpiCentre in Charlotte, which featured a five-story elevator wrap and railing banners throughout the entertainment center. The Halloween-themed visuals for Redd's Apple Ale were printed on 3M materials in high resolution, 600-dpi output. The project was completed in October 2015 by a team of two installers in four days.
"Winning the project at the EpiCentre was a huge success for our team," said Blais. "It's a very lively part of town, so we knew that a lot of people would see our work. We like to collaborate with our clients to provide the best visual graphics out there, and this was no exception.
"Not only was the team proud of our work, but now we are even more excited to be honored by SpeedPro corporate."
Blais won the EpiCentre project with Orange Barrel Media in part on the strength of using a local company as opposed to an outside contractor. He emphasized speed to market and customization "on the fly."
Since opening his studio in 2010, Blais has completed five projects with Orange Barrel Media that include wrapping the elevator, railings and support columns, and his studio plans to continue partnering with the company to provide visual graphics in the years to come. Blais added, "Orange Barrel is a great partner who demands very high-quality work."
Blais' October project was chosen by a panel of SpeedPro Imaging and Wide-Format & Signage staff at SpeedPro's annual convention, which was hosted last month in Florida. This is the first year SpeedPro has partnered with Wide-Format & Signage to honor the outstanding work completed by franchisees across the system.
"We created the Project of the Year Award because we want to honor all of the great work our studios are doing," said Boris Katsnelson, president and CEO of SpeedPro Imaging. "It allows the SpeedPro franchisees to share their creative work while also giving them a slight competitive drive to be the best of the best."
SpeedPro Imaging is the nation's leader in large format imagery, specializing in high-quality products including wall murals, event graphics, tradeshow displays, vehicle wraps and window graphics.
For more information about SpeedPro Imaging, please visit www.speedpro.com or www.speedprocharlottecenter.com.