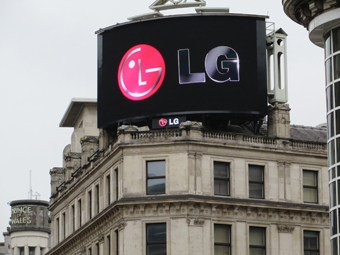 Storm, Clear Channel UK's super-premium brand, has unveiled a brand new, state-of-the-art display from Daktronics of Brookings, South Dakota, at the company's Coventry House site in London's iconic Piccadilly Circus. Recognized as one of the world's most famous digital billboards, the new display was chosen by leading electronics company and long-term resident of the site, LG.
This new 48-meters-squared advertising panel has a one-of-a-kind curvature that matches the aesthetics of Coventry House's rooftop. The screen features Daktronics' 13HD product, a premier through-hole LED technology with adjustable brightness that beautifully displays digital advertising even in bright sunlight.
The display delivers contextual advertising that can be triggered by different factors, including weather and time of day. Last year, Storm worked with British Airways and leading media agency OgilvyOne to deliver a world-first advertising campaign that was triggered by planes flying over the site.
Darren McKay, sales director at Storm, said, "Coventry House is one of the few full motion digital screens available in central London. The new screen looks fantastic, and we are excited to work with LG and other leading advertisers to create stunning advertising that people will remember."
"Daktronics is proud to manufacture and install this iconic display for Clear Channel and LG in this premier location in Piccadilly," said Patrick Halliwell, Daktronics UK Managing Director. "It will be a great feature of our 13HD video product's first use in this type of application and marks another showcase installation in Piccadilly for Daktronics."
Earlier this year, Storm and LG announced a three-year extension to their Coventry House site partnership, extending the advertiser's relationship with the screen to ten years. Storm has the flexibility to offer Coventry House to other advertisers for tactical campaigns as part of the agreement.
Storm is part of PlayLondon, Clear Channel's new digital proposition that also includes the London Wrap, a new, built-for-purpose network of forty digital forty-eight-sheet billboards across London, and Adshel Live, a network of one hundred digital six-sheets on key London high streets.