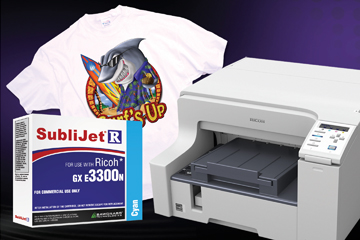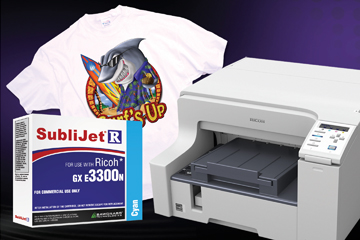 Sawgrass Technologies Consumer Division, a world leader in the development of profitable solutions for digitally printing consumer products, offers the SubliJet-R sublimation ink system for the Ricoh GX e3300N printer. SubliJet-R is a specially formulated sublimation ink for the Ricoh platform that produces brilliant, high-resolution color quickly and efficiently. Paired with high-quality transfer media, SubliJet-R produces vibrant, permanent images that are unmatched by any other form of digital printing.
The Ricoh GX e3300N for SubliJet-R is a professional grade, high-volume sublimation printing solution that makes it easy to produce a wide variety of high margin items including: plaques, awards, photo-gifts, promotional products, poly-performance apparel, signs, and more. The key to the patented SubliJet-R system is the chemical process. When sublimation inks are heated to 400°F, they turn into a gas and form a permanent bond to 100 percent polyester fabric or items that have a polymer coating. The result is a premium, full-color, photographic-quality image that will not crack, peel, or wash away from the substrate to which it was applied.
This desktop printer has an 8.5-by-14-inch printing field and can deliver up to 144 high-quality, photo-realistic images per hour. In addition, it's backed-up by Sawgrass's comprehensive PartnersPlus support program that includes online product support, full product warranty, and technical phone support.
"With its advanced color imaging characteristics and low cost per print, the Ricoh GX e3300N for SubliJet-R system is the perfect choice for a new business looking to generate big profits on a small budget or as an expansion system for an established business," said Mike McEvoy, director of Marketing Communications for Sawgrass Technologies.
To learn more, visit www.sawgrassink.com.