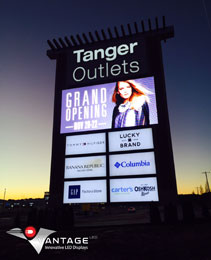 The digital sign industry has experienced steady growth over the last few years, and if your shop isn't offering this dynamic solution, you could be missing out.
For one, the demand from customers is there. So too is digital signage's proven ability to get a message across.
"In a time of such diversified pulls for attention—people swapping from cable broadcast TV to online viewing, satellite radio/digital music, social media—on-premise signage is the strongest and most effective way to communicate who you are to the community," says Deacon Wardlow, sales, Vantage LED. "Sign shops just need to remind their customers the people they want to reach pass by their business every day.
"And the best way to reach them is to use on-premise digital signage to get the word out."
And the benefits aren't all on the end-user's side.
As Bill Kurtzer, president of Gallery Digital Signage, a division of national audio-visual technology company Vcom IMC, sees it, sign shops stand to benefit from selling digital signage in three main ways:
1. Expansion. Sign shops can offer digital signs as a new product to existing customers, acquire new customers through the offering, and even use it to enter different vertical markets. Either way, growth is assured.
2. Revenue. Aside from selling the actual screens themselves, digital signage offers many opportunities for revenue generation, including content creation, the fabrication of enclosures or wraps around a screen, and installation and maintenance work.
3. Position. "There's been a shift toward digital," says Kurtzer, and those companies who offer digital signage will be aligning themselves with the future and what's to come.
Partners in Profit
How does a shop enter the digital sign market to take advantage of these benefits? The answer: By partnering with a manufacturer.
"It's important to have a seamless relationship with our sign customers," says Michael Schmidt, vice president of Sales – Outdoor at Optec Displays, Inc. "Helping them sell digital signage is a strategic win for us, the sign shops and their customers, and the industry."
A good digital sign manufacturer will act as a partner to a sign shop by educating them and the customer, aiding in the sales process, and providing marketing materials (often co-branded).
"The more they know, the more competent they're going to appear and feel," says Wardlow. "The more competent they appear to the customer, the more competent that customer is about working with that person versus anyone else."
And sign shops don't need to know every single detail to achieve that competency either.
"They've got to have an understanding of what they're selling that's beyond the basics," says Wardlow. "Because that's what's going to differentiate you.
"That's the extra added value that you bring to the conversation that your competitors aren't."
If a shop is selling interior digital signage, Wardlow recommends a deeper understanding.
"Interior displays require specialized understanding of cable runs and additional equipment behind the signage, which makes it work," says Wardlow. "Manufacturing partners can advise."
If a shop is frequently involved in interior digital signage, Duncan says creating a sales engineer position that focuses on handling networking, identifying any obstacles, and taking care of project management and backend details may be beneficial.
In addition to offering training and resources, some manufacturers take on the educational role and travel with sign shops to talk with customers.
Gallery Digital utilizes the connections of its manufacturers' rep, Yorston & Associates, to work closely with sign companies and their customers.
"Our goal is to enable and assist the sign companies in multiple ways—sales support, design and sales support, technical and install support," says Kurtzer. "We will actually travel with Yorston and our sign companies to the customers where we believe there's an opportunity for growth."
All manufacturers acknowledge that one of the best ways to promote digital signage is by having it at your shop—whether it's signage on the shop building, within the shop, or on a trailer. Seeing is believing for many customers, and demo units are crucial in this sense.
"Plenty of sign companies promote digital signage outside their facility, either on their building or on their pylon sign," says Schmidt. "Others prefer to have demonstration units on a small trailer. This allows them to bring the digital signage directly to their customer's location."
Shops even have the option of renting or borrowing these demo units from manufacturers, which eliminates the need to invest in their own digital system. Watchfire Signs also has demo vehicles equipped with full-size electronic displays that sales people can take on customer visits with a sign company.
Finding Customers
So you have a manufacturing partner, marketing materials, demo units, and the technical know-how. Now how do you find a customer to wow?
The good news is that just about anyone with a business or an organization with a message to get out can benefit from digital signage.
"What has amazed me has been the spread of our industry into really every kind of business that we can imagine," says John Kunze, director of Sign Division Sales at Watchfire Signs. "Everybody can see how this technology can help them."
Sign shops can turn to banks, schools, churches, corporate environments, grocery stores, auto body shops, and more. Anywhere with a wait time, such as restaurants and doctor's offices, are great opportunities for digital signage, as well.
Shops shouldn't be afraid to combine both indoor and outdoor digital signage for maximum effect in businesses where it makes sense.
"Restaurants are an ideal industry to implement interior and exterior digital signage," says Schmidt. "Restaurants rely on patrons' impulse decisions, and LED digital signs grab people's attention and drive hungry people to the establishment.
"An LED message center inside the restaurant could run live stock quotes, news headlines, jokes, or even live Tweets to the business' Twitter account, for example. Making patrons' meals enjoyable helps ensure they come back the next time they're hungry."
Digital signage is rarely constrained by signage type either—pylons, monuments, directories, wall signs, etc. are all ripe for conversion to digital. "Engineering has come a long way and so really, anywhere an end-user wants to effectively communicate and interact with their customers is now feasible," says Schmidt.
An important thing to remember, however, is that the proposed sign should be in the way of traffic—whether that's foot traffic or cars on the road.
"Our job is to talk to moving traffic," says Kunze. "We've got to make sure we can do that effectively."
Kunze says they often do a traffic analysis for customers to give them an idea of how much traffic they have outside their business, the demographic of that traffic, etc. This data helps customers better understand who they'll be reaching and what a digital sign can and should do for them.
Want Vs. Need
No matter the sign type or the business, a digital sign's function should pivot on what a customer needs.
"A needs analysis is incredibly helpful," says Wardlow. "Most manufacturers should have one available, which gives sign salespeople a list of questions to ask to clarify what the client needs to achieve their goal with digital signage."
But remember what a customer wants doesn't always line up with what they actually need.
"Sometimes people have what they think they want and what they really need, and they're two different things, says Wardlow. "And that's where we have to really educate people."
Value Over Price
This is inherently the biggest challenge of selling digital signage—educating the customer on what they need, as well as the real value of digital signage.
"It's really about the advertising and communication value the sign brings. That's the biggest thing that the end user needs to hear from his sign company, and also one that we can help teach the sign company how to deliver," says Kunze. "We offer some business development tools as well—sales training you might call it."
So much talk about digital signage revolves around price, which is the wrong focus.
"You've got to change the conversation from price to value," says Wardlow. "You wouldn't be having the conversation if they weren't interested in it. So price is a problem, but there's always ways to get around price."
The ROI shouldn't even be the primary discussion, as that will come from an effective digital sign branding.
"Essentially if you're having a conversation about the brand, about the value, and what their objective is, the return on investment naturally follows from all that," says Wardlow. "You're going to get more people coming in, which gets you more business, more investors, more charitable contributions, more people in the church, or whatever your focus is."
In addition to the ROI, a customer will also benefit from reduced costs. "There's cost savings from potential print and potential labor savings from manpower changes," says Kurtzer.
It's clear digital signage contributes not only to the bottom line of your customers but also your shop.
"[Digital signage] is an avenue [sign makers] should pursue," recommends Kunze. "The market is there for them to grow their business."
By Ashley Bray
Photos (top to bottom): Optec Displays, Vantage LED, Watchfire Signs.