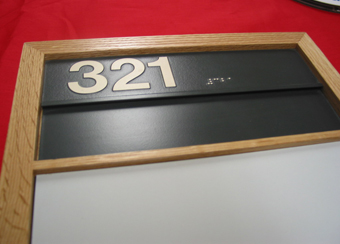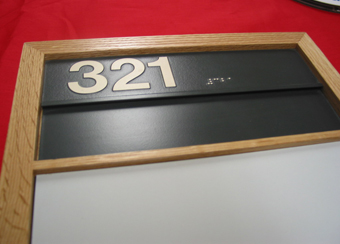 Lori Shridhare
When considering your choices for identity signage, there are plenty of new and exciting materials, designs, and systems available, many of which have a minimalist, modern look and components that are green. The identity sign systems now on the market are designed to adapt to any environment and typically come with modular components and interchangeable sections used to create ADA, window, desktop, and other interior signs, as well as directories.
Best Sign Systems, Inc. of Montrose, Colorado, a manufacturer of architectural signage products, offers many identity signage system options. One of its newest systems is Strata, which the company is currently distributing exclusively. Strata features curved-face signage with interchangeable components. Ideally suited for hospitals, universities, corporations, and government buildings, the system can be updated as rooms and offices are renamed. Strata is mounted with an aluminum bracket, which are available in a range of lengths. The sign background color can be chosen to suit, and 38 standard ink colors are available, plus gold and silver.
Strata is designed with a European feel, employing a curved, softer look that appeals to a 21st century "technological" aesthetic. "Curved faced signs in general were designed to provide a natural dimensional element to interior signs," says Stephen Savoy, CEO of Best Signs. "Strata is an easily customizable system that allows for custom colors and metal finishes. The graphics can be screen printed, digital or vinyl, depending on the design requirements. The window sign components allow freedom to design custom inserts to meet the design of their environment."
Made of aluminum, Strata ADA and graphic panel signs can be updated by adding a modular panel with a holder, paper insert, and a clear lens cover. For the upper portion of this model, raised characters or graphics can be applied, and the finishing can be painted, layered with direct imaging, or screen printed. Another possibility is Strata's premier model, which uses the standard graphic panel as a base and, with satin aluminum stand-offs, includes a clear, flat graphic panel that can have vinyl graphics or raised lettering and Grade 2 Braille. "This particular product is highly customizable to fit the environment being designed," says Savoy.
Best Signs offers a number of other systems in addition to Strata, but how does a shop determine which is the best system for their client? To narrow things down, first consider the style of the building. If it's an older structure, a more traditional identity signage system might be suitable with wood or metal as the material of choice, and these materials can still be modernized with interchangeable parts. For new buildings, color and vibrant designs might work better, including sleek and narrow panels as opposed to traditional rectangle and square backdrops.
Form and function must also be considered. While the signage must be visually pleasing and suit the aesthetics of the interior, it must also function in harmony with the location's purpose. While corporate environments are typically gentler on identity signage, public arenas such as schools and government buildings beg for more rugged systems. "In the case of schools, you want to have a product that is vandal proof," he says. "In high-traffic environments, you want a product that has a longer warranty than say a photopolymer sign that usually only offers no more than a one-year warranty."
Best Signs avoids products prone to wear and tear by offering systems that are single-piece construction. Its Graphic Blast MP (melamine plastic) ADA engraved sign system is specifically designed for high-traffic settings. Melamine plastic provides a durability that is superior to acrylics and photopolymers, allowing for a scratch-free surface. Visually, the system employs a modern, youthful design, which appeals to the education market. This product line is also easy on the environment as it contains pre-consumer recycled content and has low chemical and particulate emissions, meeting Greenguard Certification. In addition, this system incorporates the company's proprietary Graphic Blast® engraving process, which makes it easy to engrave and apply artwork to the melamine plastic.
Best Sign's Lucent and ImPressions identity sign systems are made with a proprietary thermoforming technology and can also withstand high-traffic environments. The thermoforming process allows for applying graphics to acrylics instead of glass, which makes the system more resistant to damage, while still providing a translucent effect. Lucent is a system that can be integrated with a range of shapes and diverse surface textures including matte, stipple, or slate, with 117 standard paint color options. Metallic text, raised graphics, or second surface colors can enhance the aesthetics of this system.
ImPressions is a single-piece ADA sign that omits attached letters or raised characters, allowing for minimal maintenance when posted in busy environments. This system is made of Kydex®, an impact and flame-resistant, thermoplastic alloy used in a wide range of industrial and commercial applications.
With all of the options available, it's a snap to customize a business' environment with the right identity signage. Savoy details a typical install: "In the entrance, we can design the directory to whichever size fits because we can simply add components to our system to make the directory as large as necessary," he says. "We would then incorporate the company logo on all of the signs. In addition, we can provide a nice accent (either wood grain or metal) to all of the signs and/or a landscape photo as part of the signage system. All restroom signs, room identification signs, and wayfinding signs would be sized to fit the room or building. For the cubicles, we can provide an interchangeable message sign that includes custom paper inserts with the person's name and/or title to fit on the cubicle track."
Installation is as simple as attaching a wall rail to the wall, which allows the components of the sign simply to snap on to the rail. "For smaller signs, the rail can simply be attached with vinyl foam tape — no screws are necessary and all attachments are invisible," says Savoy.
As corporations, hospitals, and schools, continue to move through economic changes, incorporating flexible and customizable identity signage systems contributes to affordability, with a plethora of options for designs that can suit any of these markets.
All photos courtesy of Best Sign Systems, Inc.