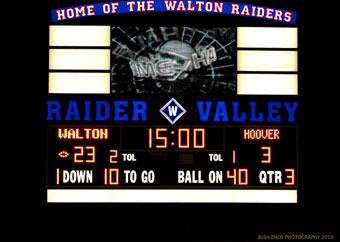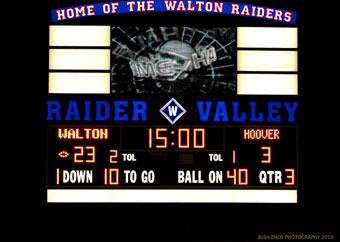 School spirit runs deep and strong at Walton High School in Marietta, Georgia. Students, teachers, staff and parents are justifiably proud of their school's reputation for academic excellence and athletic performance. And nowhere is this pride more evident than in the school's new football stadium with its custom designed high resolution video board from industry leader Trans-Lux.
Raider Valley, the stadium which is presently in the midst of renovation, was inaugurated this past fall and features one of the most sophisticated video and data integration systems at any high school in the Southeast. The system includes a Trans-Lux 32-foot rear-illuminated display complete with a TL Vision LED video board measuring 16 feet wide by 9 feet high and was designed and built by Scoretime Scoreboards of Boaz, Alabama.
"From every angle, the Trans-Lux display has been a success for the school," said Pete English, Raidervision Producer, Walton High School. "Fans have an enriched viewing experience with extras such as slow motion replays, live video and highlight reels shown on the video board. The school and booster clubs will recoup their investment much faster with income earned from the sale of advertising space on the scoreboard and additionally from full-motion ads running during the games on the video matrix screen. It's a win-win situation."
Walton fields forty-eight sports teams consisting of twenty-four Varsity, twenty Junior Varsity and four 9th Grade teams. The Trans-Lux boards get plenty of action during the year-round sporting events which represent fifteen different sports.
The new Trans-Lux board replaces an antiquated scoreboard and message center that was deemed not suitable for re-installation at the renovated field because of its outdated technology and the high costs of keeping it running. In selecting a replacement, the school examined a number of options including the purchase of a used system from Georgia Tech but ultimately elected to go with new technology that could provide a better return on their investment and potentially provide a source of income.
"Parents play a significant role at the school and with their support and involvement, we were able to do a comprehensive feasibility study of our needs and then follow it up with a requirements document," said Mr. English. "Once the list of bidders was culled down to a reasonable number, each remaining bidder was given an opportunity to present their plan and from that group we eventually ended up considering three bids offering three different manufacturer's products."
Mr. English continues, "Ultimately, we chose to work with Scoretime Scoreboards, an authorized reseller of Trans-Lux displays. In addition to the Trans-Lux displays meeting our requirements, Scoretime's proposal offered value-added services which enhance the overall production of our live games and web streaming. In collaboration with Walton's technology committee, Scoretime designed the system and then installed both the video board and the scoreboard on time, on schedule and within the allocated budget."
The new system consists of a Trans-Lux 32-foot display with rear illuminated captions and the added capability to electronically display the school's various sports team names; a TL Vision 9 foot x 16 foot color (16 million) 20mm LED video board; Proline 900 software for developing content and displaying live video and a Trans-Lux Controller. The controller integrates seamlessly with both the LED Video Board and the Walton Newtek Tricaster video production system, allowing operational ease for instant replays from the Tricaster system as well as stats from the StatCrew tracking software.
Scoretime Scoreboards worked closely with the Walton High School team to ensure the system would meet the school's requirements and be completed on time.
"The new scoreboard/video board is the first step for the school in launching a multi-phased fundraising effort that will build on the new scoreboard, so it was critical that the right choices be made," said Avery Hendrix, President of Scoretime Scoreboards. "The board really gives the stadium that extra excitement as well as providing a new avenue for revenue generation."
"Not only did the Trans-Lux display meet or exceed our specifications, but they supplied references for customers who are currently using these products," said Mr. English. "Trans-Lux also made it known that they were very interested in working with us and priced their solution accordingly. They answered our questions promptly and were quick to help by making technical resources readily available."
Photo courtesy of Bush Enos.