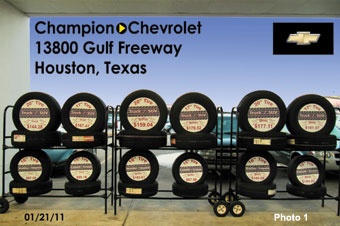 Mark Roberts
We rarely encounter any dull days around our shop. Just the other day, we received a request from a longtime satisfied customer at a local Chevrolet dealership. He needed to advertise four sizes of tires with "Good," "Better," and "Best" designations. He wanted to place these tires on display in the service drive area of his dealership (Photo 1).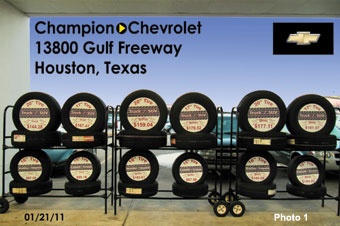 The owner presented us with the necessary copy and the told us, "Get busy! I need these before closing time today!"
Talk about a tight deadline! I was certain it could be met, but the clock was ticking.
The owner presented me with the insert copy he wanted used. I thought it was rather bland, so I spiced up the design to include a tire tread pattern, as well as the name of the vehicles that could use this particular size of tire. The top radius lettering would include the size of each wheel, and the bottom message under the tire tread print would designate a "good," "better," or "best" grade of tire – along with the manufacturer's suggested retail price.
We designed twelve of these unique PVC tire inserts; after doing so, it was time to turn these designs into real digital prints.
Step one involved creating the base art files. I located a tire tread pattern from one of my electronic clip art files, sized it to each wheel size, and then enhanced the tread with some bevel and embossing techniques in Photoshop.
Step two focused on the copy for the upper radius of the insert (the designated wheel size). This copy would be colored red for maximum attention.
Right under the tire size designation, I dropped in the tire tread pattern, along with the names of the applicable cars/trucks that would use this size of tire shown.
Below the tire tread pattern, I dropped in a clip art ribbon featuring the words "Good," "Better," or "Best." And underneath the designated ribbons, we listed the price for that given tire (Photo 2a, 2b).
We created all the print files in our design program, color-filled them, and saved them as an .EPS file. We then opened the .EPS file in Adobe Illustrator, color-corrected them, and (using Roland VersaWorks™) assigned a cutting path outline. We stroked this path with the Roland-designated cut color, saved the file once again, and then closed out.
To print these tire inserts, I imported each print file into VersaWorks. I verified each file size to make sure the printed-and-cut insert would fit on the PVC insert for each size of tire.
Needless to say, every print was contour-cut to fit each size of PVC inserts, and they all fit very well. Zero trimming was required!
I elected to use an air-release vinyl for the printing (Photo 3). When working with PVC and aluminum substrates, the air-release material goes down flat and smooth—and with no bubbles!
Since there were four different sizes of tires on display and a "good," "better," and "best" version of each size, we needed twelve unique digitally printed PVC plastic inserts to complete the project.
So we opened each individual file in Adobe Illustrator, color-checked them, and assigned a perimeter cut path to be used in the Roland VersaWorks program. (Note: This very nice feature allows the Roland VP-540 to act as a cutter, as well as an awesome digital printing workhorse of a machine!)
Once a cut path had been created, we could resize it as needed within the original artwork. (Note: If you ever need a scaled-down or scaled-up version of any cut contour file, you can have it in a "few clicks.")
Since twelve (or less) circles were required, rather than assigning the print files for router cutting, we chose to use our "supersize" drywall compass fitted with a large X-acto knife—which proved to be much quicker than creating four different router files, loading the material, and waiting for the router to cut each individual circle. Of course 0.125-inch PVC cuts very easily; however for thicknesses greater than 0.125-inch, you should use your router.
We then finished by drilling a 0.25-inch hole in the exact center of each PVC insert (Photo 4). It was then time for installation!
We sprayed each insert with glass cleaner, dried it, and placed it flat on a table. We then adhered each digitally printed insert to the designated PVC circle. A quick rubdown with a felt squeegee secured the prints to their semi-rigid substrates.
It was now time to attach these advertising signs to the respective tires.
We cut twelve pieces of 0.125-inch mill finish aluminum and drilled a 0.25-inch hole in the center of each piece.
To join the mill finish aluminum plate to the circular PVC sign panel, we used 0.25-inch carriage bolts and wing nuts. We inserted the carriage bolt through the PVC-printed circular sign and through the aluminum back plate (Photo 5). We then attached a wing nut and tightened it securely (Photo 6). This added some much-needed tension to the sign insert.
This is a fairly low-tech way to add an advertising message to any tire displayed in the parts or service departments of any dealership. So ask your customers and clients if they could use digitally printed advertising inserts for various occasions during the year. Who knows? You could even create a set of different messages for every month of the year. After all, advertising pays—for both you and your customer!