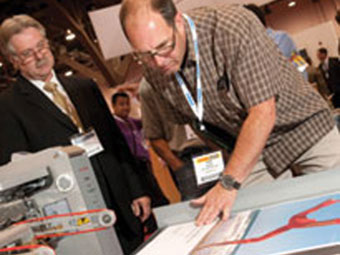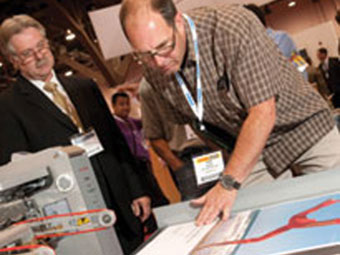 Mike Antoniak
What trends are driving the digital printing market? And what will be the hot products and services in the months ahead?
It should come as no surprise that the answers depend on who you ask. We queried several leaders from different sectors of the digital printing industry for their take on what's ahead for this market.
Cause for Optimism
As CEO of the Specialty Graphics Imaging Association (SGIA), Michael Robertson takes a broad view of the digital marketplace. "I'm very optimistic about the digital printing market in 2011," he begins. "In today's rapidly changing world, digital imaging provides the customization needed to address a wide range of imaging needs."
Robertson believes demand for ink, as well as sales of the latest technology for exhibitors at the 2010 SGIA Expo, indicate growth for the industry in the months ahead.
As far as the sign market goes, however, Robertson's optimism is more measured. "The traditional sign market is highly competitive, and much of [it] is suffering from commoditization," he observes. "[SGIA] encourages sign makers to explore markets in addition to signage where their expertise and capabilities are well suited."
(Note: According to SGIA, the fastest growing markets for digital graphics are retail, interior design, corporate branding, and government contracts.)
"The versatility of digital ink systems is the key to opening doors to several markets," continues Robertson. "We've just scratched the surface in regard to how these technologies can be used."
Consider flatbed services, for example. "Imaged glass and plastics have joined imaged fabric as media options that create new opportunities," points out Robertson.
Overall Robertson urges sign shop owners to "be creative" in courting new business. "Commoditization is making it increasingly difficult to follow established business models and be successful," he says. "In today's competitive marketplace, the successful companies are creating their own good luck."
Upgrading to Newer Systems
Steve Urmano, marketing director for digital print systems and media supplier Mimaki USA, views the digital marketplace through an "upgrade" lens. It's a year in which digital service providers need to replace older systems and expand print capabilities in pursuit of new profit centers.
"The digital printing market today is clearly a replacement market," observes Urmano. "That first generation of machines—the ones that really started the market for digital printing—are starting to wear out, and people need to replace them."
Urmano sees incentive to step up to systems that are more versatile, faster, and easier to operate than those that established sign shops' presence with digital printing services. "The new machines are a lot more like a Swiss Army knife in terms of what they can do," he says. "And it's a buyer's market right now, with some great deals [featuring] significant savings out there."
For example, Urmano says his company's JV33-260 solvent inkjet costs about 20 percent less than its predecessor, the JV33-160. The company has also added an integrated printer/cutter—the CJV30. And Mimaki's UJF-3042 table-top flatbed, with its 11.8-by-16.5-inch print area, allows production of small-scale, short-run jobs not practical on much larger systems.
With so many systems in place in multiple channels, Urmano expects sign shop owners will be looking for opportunities to diversify their business with services like soft signage or small-scale flatbed printing.
The risk though is to think that simply by upgrading or adding equipment you can capture new business. "If you can't amortize a new machine within three to five years (including the cost of maintenance), it may not be such a good move," warns Urmano. "Try to get as much as you can from your equipment in terms of versatility.
"Before you add any new capabilities or technology, make sure you understand the market you plan to enter, the pricing, who your competitors will be, and if there's space there to support you."
Business Getting Back on Track
An improving economy is boosting demand for new equipment and digitally produced graphics in all their forms, according to Robert Ozankan, senior product manager at Roland DGA. "As the economy grows, more companies start promoting their business. That's driving demand for digital printing for outdoor signs, banners, full and partial vehicle wraps, interior wraps, wall and window graphics, and tradeshow graphics," he says.
For sign shop owners, Ozankan sees opportunities developing in direct printing to fabric; new eco-friendly media; and wrap installs directly onto brick, concrete, stucco exteriors, drywall, and other surfaces used in interiors.
"New materials are making this process easier and enabling installation of graphics in high-traffic areas," explains Ozankan. "Wide format printers from 54 to 104 inches wide are especially well suited to these applications."
As far as equipment goes, Ozankan believes the metallic ink capabilities of Roland's VersaCAMM and SolJet Pro III eco-solvent printer lines and new VersaCAMM VS metallic ink printer/cutters will create new applications for digital prints. "We expect our sales to increase for our VersaCAMM VS printers/cutters with metallic eco-solvent inks, as the market discovers the power of metallic graphics," he says.
Ozankan advises sign shops to consider upgrading to the newest eco-solvent printers to share in the growing demand for durable graphics.

"Versatility is very important, as customers are increasingly looking for customized output," says Ozankan. "If you can equip your business with tools that allow you to profit from short runs and offer a wider variety of graphics, your business will thrive going forward. And your customers will benefit, as well."
An Insight on Trends
Talking to scores of sign shop owners and digital services providers each day, Josh Culverhouse, product support manager for vinyl media supplier Oracal, is especially attuned to their concerns and interests. So far, their attitude seems a bit more upbeat than a year ago.
"Before people were ordering material only as jobs came in—and then just enough to complete the job," notes Culverhouse. "We're definitely starting to see things pick up with orders of regular fifty-yard rolls."
Culverhouse is fielding more requests for media with an air-release system like that offered in Oracal's ORAJET Series 3951 Professional Wrapping Film with Rapid Air® (RA) Technology for vehicle wraps; ORAJET 3551RA for trucks; and ORAJET 3165RA for signage and P-O-P applications.
Demand for vehicle wraps seems especially strong, as well. "I think a lot of our customers realize marketing dollars are hard to come by and are recognizing the value of a full or partial vehicle wrap as a way to advertise or promote their business," says Culverhouse.
But wraps are becoming increasingly popular for all settings. "We're getting requests for material in more demanding applications and hard-to-stick surfaces (like brick, concrete, and some plastics)," remarks Culverhouse, noting this is driving sales for the company's ORAJET 3951HT vinyl, which was developed specifically for such applications.
Customers are also asking about the latest print systems. "The most questions we're getting are about HP's latex printer," says Culverhouse. "People have heard that it allows them to print, cut, and laminate, and speed up production.
"They want to know what materials are available for printing on that system and if there are any drawbacks. Roland's metallic printers generate similar interest."
As far as untapped opportunities go, Culverhouse says look homeward. "One of the fastest growing parts of the graphics business is cut vinyl for wall graphics in the home," he observes. "There aren't a lot of companies in that business, but those who are seem to order a lot of vinyl."
A Buying Mood
The optimism exhibited at Epson America is rooted in early indications that its customers are once again in a buying mood.
"It's not just confidence that's a key factor," says Reed Hecht, product manager for professional imaging at Epson. "A lot of these businesses also understand they need to invest in products that help them reduce costs, streamline operations, and ultimately expand their services to be more competitive."
Hecht advises sign shop owners to consider specialties like backlit display, soft signage, and fabric printing as new sales outlets for their digital printing expertise.
Hecht also expects Epson's Stylus Pro GS6000 and its UltraChrome GS ink technology will prove popular with sign shop owners looking to expand or enhance their capabilities. "The technology behind the ink is already changing the way a lot of sign companies think about solvent inkjet printing, given its extremely wide color gamut, the fact that it has no odor or nickel compounds, doesn't require external heating, and is less harmful for the environment and workers," he explains.
Popularity of the system is driving demand for media to tap these capabilities for new services. In response, Epson recently added its GS Poster Paper Gloss for low-cost poster production, and Hecht says the company will add more media for the printer in months ahead.
"Focus on bringing new offerings and solutions to your customers," says Hecht. "Invest in new technologies that not only expand your services but also contribute to lowering operating costs and increasing productivity and (ultimately) profits."
Upgrades, Economy Bring Growth
At Seiko Infotech, General Manager Patrick Ryan sees economic progress and the printer replacement market combining for strong growth for the company in 2011.
"We expect strong sales in both the entry-level and mid-volume product lines, due to companies holding off upgrading the last two years," explains Ryan. "But we also see more interest in our specialty printing—such as mesh printing, backlit film printing, and printing with greener inks."
Ryan anticipates demand for wide format graphics will build "as companies begin to re-invest in marketing and advertising." Specifically he looks for the biggest gains in vehicle graphics, traditional signs and banners, and P-O-P signage for large retail stores and chains.
For its part, Seiko Infotech will add more innovations to its Color Painter™ H series of solvent printers, and it will unveil an entry-level line of eco-solvent printers at this month's ISA Sign Expo.
"While UV flatbeds have taken over the printing of rigid materials, and latex has enjoyed some success with indoor P-O-P posters, every industry research company predicts solvent inkjet printing will remain the technology most often used for outdoor graphics signs and banners for the next five years," observes Ryan. "Companies are working hard to make sure each new generation of solvent or eco-solvent printers is a better investment than printers designed just two or three years ago."
In fact, Ryan expects the fruits of those efforts will prove hard to resist. "Our new Color Painter lineup for 2011 has many new features that will motivate shops to upgrade their printer, once they see them in action," he says.