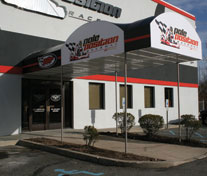 Jeff Wooten
Awnings and canopies can be instrumental tools in helping to enhance properties. Mike Grosso, sales consultant with Capitol Awning Company, a long-time business in Jamaica, New York that specializes in awning design, fabrication, and installation, points out a couple of its recent projects best exemplifying this idea.
For instance, Grosso's company used awnings to add to the appearance of a recently remodeled Ruth's Chris steakhouse at a prominent location in the middle of Manhattan. "We've had a long-term relationship with them," he explains. "After the interior remodel, the owners felt they needed a better presence on the street and considered a sidewalk canopy. However we convinced them that awnings covering the length of the restaurant from end-to-end would provide a more dramatic look."
Capitol Awning produced three beautiful awnings using black Weathertyte® material. They vacuum heat-fused the "Ruth's Chris" vinyl text directly onto the fabric and attached the awnings to the framework via the staple-in method.
Making this project even more unique is that the company incorporated custom-made trellises into the awning design. Because of the weight, steel would've been too heavy, so Capitol Awning custom-cut the trellises out of aluminum using a router table. They then applied an electrostatic painted finish and attached them to the awning. Meanwhile gooseneck lighting fixtures were added above to provide evening illumination.
Capitol Awning used its portable Genie lifts to hang the awnings, and even though safety is a big priority in the city, passers-by still exhibited the "New York City mentality" during installation.
"No matter how many cones and barricades you have, if people have a place to go, they're going," laughs Grosso. "We always have one man to keep traffic and the public flowing and to stop the [installers] when they need to stop."
Capitol Awning was also recently brought in on a project for a new Pole Position franchise in Jersey City, New Jersey. They were able to get involved with the job thanks to their creative eye and their long-lasting relationship with Ace Sign Company (www.acesigninc.com), a full-service, family-owned and -operated sign business in Perth Amboy, New Jersey offering sign design, fabrication, and installation to small and corporate businesses.
There's a good chance you've seen Ace Sign Company's work—if not in-person then on television.
"Not only did we paint the 'Drive Safely' signs located on the big oil tanks featured along the New Jersey Turnpike, but we also made the signs for the salon where the stars of the Jersey Shore work at," says Phil Smith, Jr., the third-generation owner (along with his brother). (Note: Boxer "Ace" Friedman and Smith's grandfather started up this sign business back in 1928.)
Pole Position is a national franchise with a focus on entertainment, food courts, and indoor battery-operated go-kart racing. This particular franchisee was opening up a new location at an 80,000-square foot, then-empty warehouse and needed branding.
When Ace Sign Company found out about these plans through one of its customers, they jumped at the chance to offer their input and services.
This Pole Position is in an industrial-type park off the beaten path and really needed something that would attract attention. The [franchisee] already had a logo, but he didn't know how to incorporate it onto the building façade.
This partnership here between Ace Sign Company and Capitol Awning resulted in an attractive mix of channel letters and logos, a pylon sign, and a fluorescent-lit front entrance canopy.
"The channel letters are halo-illuminated with LED," says Smith. "We also incorporated an internally illuminated light box with a face that lights up. We used non-illuminated Sintra® material for parts of the sign."
Pole Position sent Ace Sign Company their logo electronically, so it could be imported it into a design-and-cut program. "We cut the letters on our CNC router, but since the kart-based logo was too big to fit on the router table, we had to hand-cut it," says Smith, noting his installers used two bucket trucks to stud-mount the signage onto the façade.
Ace Sign Company also crafted and installed (via its crane lift) an 8-by-19-foot V-shaped pylon sign featuring two single-face boxes. "We placed fluorescent lamps inside there," explains Smith.
Meanwhile Grosso put his "heart and soul" into the project. After the initial meeting with the owner (who wanted a canopy for his front entrance), Capitol Awning wasn't thrilled with some of his early designs due to wind conditions.
Visibility was also a factor: The canopy had to help identify the building to traffic coming in from an angle. "The corner of the building facing drivers is probably 200 feet," says Grosso, "so we designed the canopy to face the corner where the cars are turning in to park. We also implemented an internally illuminated arch with the company logo on its left-hand side (facing traffic)."
Another concern was making sure the front entrance canopy wouldn't get damaged by traffic. "We didn't want to come out too far with it, because you don't want it to get hit by delivery trucks or vans."
So Grosso and his team went out and took measurements of the building, the walkway, and the parking lot.
The end result measures 23 feet long, 4 feet tall, and 9-1/3 feet wide. The canopy and the Pole Position face on it are all awning fabric, while the graphics are pressure-sensitive vinyl. Capitol Signs attached the awning material to the aluminum framework via the staple-in method.
The canopy is also internally illuminated with strategically placed high-output fluorescent lamps. "The black material is opaque, and the white material illuminates," explains Grosso.
In addition, Grosso and Smith provided the entire entry facade design. They showed the owner a design featuring a new building color that incorporated a checkered flag. Once approved, the facade was completed in stucco and paint.
Smith will be returning soon for additional work. "We're going to build a monument sign mimicking the building signage by the front entrance and add a digital LED reader board underneath the existing pylon cabinets," he says.
Capitol Awning always puts its all into its awnings. "If you don't have excitement about what you do, you're in trouble," says Grosso. "With the amount of people in New York and New Jersey, that's a lot of people who'll notice."
Photos courtesy of Capitol Awning Company.