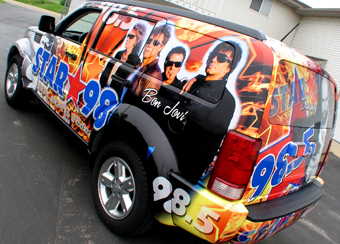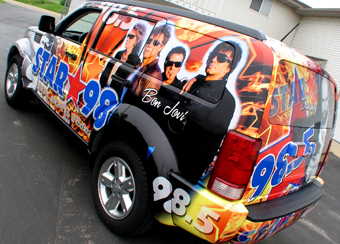 Mike Antoniak
When J. Michael Thienel boasts of being Appleton, Wisconsin's original "wrap artist," it's more than just bravado. Since the mid-1990s, when Thienel first joined the company he now owns and operates as AutoTrim Design, he's been a hands-on producer and installer of vehicle graphics.
And what started in those early days as a specialty service in pinstriping with tape has given way to today's full-color vehicle wraps with the bright graphics and photographic murals made possible with the latest from large format digital printing.
Over the years, AutoTrim Design has wrapped all types of cars and trucks, as well as boats and planes. "In our area, people know us as the specialists in vehicle graphics," says Thienel. "If they want value and something that will look good and last, they come to us, because they know the work we do is top-notch."
Local And National Provider
That stellar reputation has enabled the company to hold on to its earliest clients in its market area, while also establishing itself as a national provider of vehicle graphics kits.
Thienel estimates AutoTrim Design's business now breaks between 60 percent Web sales of custom vehicle graphics kits and 40 percent local sales and installation services. "We look at the things we do for cars here as our test for graphics kits that we sell nationally," Thienel explains. "We'll take a specific vehicle and create designs for it that people won't find anywhere else and sell them online."
Throughout its Web site and ebay store, AutoTrim Design markets more than 1,000 items, including do-it yourself graphics kits for today's trendy cars and classic rides. Orders can be printed as needed with the company's Mutoh ValueJet wide format printer, the third-generation of digital print technology employed by Thienel.
Thienel's introduction to digital printing took place in the mid-'90s with a four-color NovaJet III for lettering and limited graphics. "We knew back then the inks and materials for digital printing would eventually get better," he says, "so we held off buying another system until the technology and media were there."
Then, as part of a conscious decision to build the company's future entirely around vehicle graphics (custom graphics, window tinting, and paint protective film), Thienel purchased a Gerber EDGE® printer. "The EDGE allowed us to offer photographic quality for the first time," he says. "But because it only printed at 11-3/4 inches wide, we had to panel everything.
"That meant a lot of labor on each installation, but it showed people what was possible before anyone used the term 'vehicle wrap.'"
Thienel's specialization decision paid off and ultimately allowed the company to bolster its local reputation and build a national audience. Thienel credits today's ubiquitous wraps to the advances in technology which have made these graphics easier to produce and install, backed with confidence that they will last.

Delivering on the Early Promise of Digital
According to Thienel, the necessary print technology for wrapping was there a long time ago; eventually it was the inks and media that finally caught up. "Oracal's RapidAir® technology really helped make it much easier to install these graphics on any shape or curve," he says. "Because of our certification by Oracal, we're able to tell our customers [that] the graphics are warranted for six years now."
Auto Trim Design's ongoing commitment to push the printing technology to its limits and provide its client base with graphics that hold up for years has enabled it to maintain a loyal customer base. For example, when a local radio station management company (a long-time client of Thienel's and a member of the Cumulus Media national radio network) decided it was time to refresh some vehicles promoting its stations, they gave AutoTrim Design the call.
The order actually involved two separate projects. For local country station The Wolf, the customer wanted to refresh the look of an H2 Hummer done a few years ago. "There's been a lot of consolidation in the radio medium," says Thienel. "There are more simulcast stations today, and they wanted to promote both with the same vehicle."
The stations' iconic Wolf now howls from the Hummer in an eye-grabbing composite of logo and call letters and numbers—as well as country hit makers George Strait and Carrie Underwood.
The other project required dressing up a new Dodge Nitro for the company's rock station, Star 98. Hard-to-miss graphics grab attention as the SUV rolls through town, in a full wrap that promotes the station and stars Bon Jovi, Chris Daughtry, and Pink in larger-than-life images.
Like the Hummer, the wrap design also includes marketing's latest tool: QR codes allow pedestrians to launch the station's or AutoTrim Design's Web sites with a quick scan from their smartphone.
A Proven Approach
Although the look of the vehicles are as distinctive as the music genres they promote, the creative process involved for both was strikingly similar to any other wrap project.
It started with a sit-down session at which Thienel and members of his six-person staff met with the client and discussed their goals and preferences in theme and color. "Then I looked at their Web site and logo [to] get a feel for the look they'd been using and started thinking about how to translate that to the vehicle," he says.
For the radio stations, the artists-to-be-featured was an important part of the discussion as well. After the station managers made their selection, Thienel downloaded several high-res images of each off the Web. Then working in CorelDRAW® on a PC, he created proofs of different design concepts. "The digital camera has really helped us, because we're able to take a picture of the vehicle and then show how the final wrap will look," notes Thienel. "It's a great visual aid that also helps us plan and see what things on the vehicle we might have to work around."
The design cycle took about a week before final approval for printing. It then took another week for output and curing of the graphics before the two-day installation by Thienel's two-man crew. "We removed all the logos, door handles, and anything else that might interfere with the installation," he says. "We also like to use the least seams possible, so we produced the panels at the ValueJet's full width of sixty inches."
There was still need to trim—there's really no way to get around that. "But I've found we can get the graphics to fit the vehicle much better when they're printed out at full frame," says Thienel.
Thienel always works with graphics that are rendered at 72-dpi from higher-res files that have been downsized to retain image quality. "We know how to work with picture resolution and dpi and the mathematics involved, so the picture always looks its best," he explains. "When you don't know what you're doing, you can end up with pixelated results."
Thienel finds the toughest part of a wrap job is the setup. "That's going to effect everything else you do," he says. "We spent a lot of time working on the design and getting it right, so that when we received the go-ahead, we were confident it was going to turn out right."
All photos courtesy of AutoTrim Design.