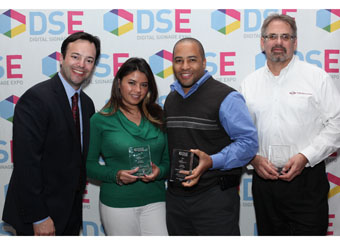 Digital Signage Expo (DSE), the world's largest International Tradeshow and Conference dedicated to digital signage, interactive technologies, and digital Out-of-Home Networks (DOOH), today announced that its Third Annual APEX & Content Awards Dinner will be sponsored by the Digital Signage Federation, its official Association show sponsor. In addition, due to extraordinary response, deadline for Awards submissions has been extended to Friday October 14.
"We appreciate the Digital Signage Federation's support of DSE's awards program and the Federation's active participation in encouraging industry innovation," said Richard Lebovitz, Educational and Editorial Director for Exponation LLC, which produces DSE.
Lebovitz added, "We are also happy to accommodate those who's projects are currently in roll-out and need more time to adequately prepare their applications and have extended the awards submission deadline to Friday October 14."
DSE's Annual Awards Dinner, to be held 7-9pm Wednesday March 7, 2012, at Caesars Palace, Las Vegas, recognizes innovation in the development and deployment of technology in the global Digital Out-of-Home Industry, as well as compelling content created for digital signage and digital place-based networks.
Digital Signage Expo® 2012, co-located with the Interactive Technology Expo and Digital Content Show, is scheduled for March 6-9, 2012, at the Las Vegas Convention Center in Las Vegas. For more information, visit www.digitalsignageexpo.net or follow DSE on Twitter at http://twitter.com/#dse2012.