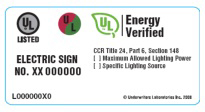 The California Energy Commission (CEC) adopted sign lighting regulations on January 1, 2010, and the sign requirements can be found in the 2008 Building Energy-Efficiency Standards, Title 24, Part 6, Section 148 of the California Code of Regulations.
The 2008 Sign Lighting Standards address both indoor and outdoor signs and include mandatory automatic control requirements for all illuminated signs. In addition, the Standards set limits on installed lighting power for internally and externally illuminated signs.
There are two methods to comply with the 2008 Sign Lighting Standards:
Watts per Square Foot: sets maximum power per sign area
Specific Technology: uses only energy-efficient lighting technologies
In addition, Underwriters Laboratories (UL) and UL Environment (UL-E) have developed a program to assist sign manufacturers in demonstrating compliance with the power requirements: UL-Environment's Energy Efficiency Certification Program.
UL48 Sign Manufacturers now have the option to apply the UL-E Green Leaf Mark to signs that demonstrate compliance to one of the lighting power alternatives described above. The UL Safety Mark and the UL-E Energy Verified Mark will always appear together on signs covered under this new program.
The program is available to UL48 Electric Sign Listees now, and those interested can apply by calling UL-E's customer service personnel at 888-4UL-GREEN, by sending an email at [email protected], or by visiting http://www.ulenvironment.com/ulenvironment/eng/pages/offerings/services/energy.