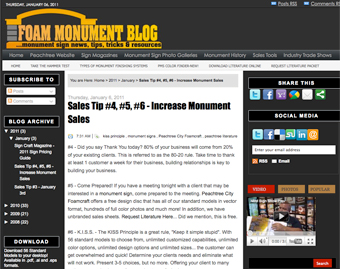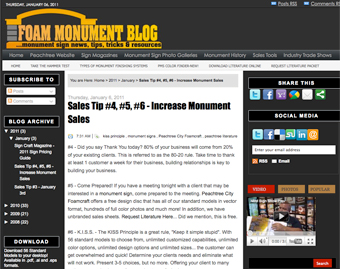 Peachtree City Foamcraft is ready to meet industry demands head on by going viral with foam monument news. On January 1st, 2011 Peachtree City Foamcraft officially launched its new Foam Monument Blog:
www.foammonuments.com
.
"The focus of the blog is foam monuments and everything that can help sign shops become more successful selling monument signs, installing monument signs, and evolving their business to meet industry trends," says Katie Schwartz, marketing coordinator for Peachtree City Foamcraft. "This is more than a blog, it is a resource—a tool for sign shops to interact with Peachtree City Foamcraft through various types of social media, as well as an opportunity to read articles from industry publications while previewing upcoming tradeshows and industry events."
The blog will feature a sign of the month, tips, tricks, case studies, and samples of finished projects. In addition, Peachtree City Foamcraft will also accept article submissions from retail sign shops, sign manufacturers, and distributors. The content must be relevant to increasing productivity in the dimensional signage market.