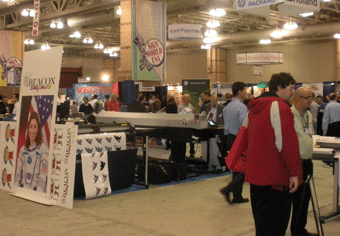 By Nancy Maren, USSC Executive Director

Sign World International 2011 is coming soon (December 1-3), and this year especially, you should be there. Sign World International is the annual educational conference and tradeshow of the United States Sign Council (USSC), which is held for the industry to come together, have fun, and learn how to produce and sell more profitable signs and graphic products in a challenging business environment.
As usual, USSC's Sign World International will be in Atlantic City, New Jersey, one of the country's premier casino and entertainment destinations, located right on the Atlantic Ocean. Located near both New York and Philadelphia, Atlantic City is easily accessible by car, train, or air.
Especially if you haven't been there yet, Sign World International is the perfect reason for you to come to Atlantic City and enjoy yourself.
There are, of course, other even more compelling reasons. Competition is one.
Competition is always tough to deal with, but as our economy becomes more dollar conscious, low-price competition can be especially difficult to combat. Unless, of course, you have the knowledge and the power that goes with it to put yourself well above the low-price, low-quality pack.
And that's precisely what the USSC educational program at Sign World International is set up to do for you.
Industry specific seminars and hands-on workshops make Sign World International a truly unique educational experience for any sign person. And this year, when future sales may be more highly contested, the knowledge that you can obtain from USSC at Sign World to help you stay ahead of the pack can be more valuable than ever!
Depending on your interests, there will certainly be a great number of exceptional educational opportunities available at Sign World for both yourself and your employees.
Both the seminar and workshop programs have been carefully structured to provide superior knowledge and skill sets to sign people from both small and large shops. Most are conducted by true industry icons, who have achieved prominence because of their unique skill at teaching as well as their dedication to the betterment and profitability of the sign industry: Dan Sawatzky, Butch "Superfrog" Anton, Joe Diaz, Ray Chapman, Dave Fellman, Phil Garvey, Rick Crawford, Randy Wright, and many others.
And if hands-on learning appeals to you, the Workshop Sessions, conducted by Anton, will show you how to add another dimension to your shop capabilities through the use of heat transfer, which is being used more and more by sign shops throughout the industry.
Of course, Sign World also includes the exhibits featuring all the new products in the industry, as well as the incredible year-end bargains offered by many of the product exhibitors in the exhibit hall. And the bargains are especially relevant this year—when you still can write-off up to $250,000 in capital investment!
And you won't want to miss either watching or actually participating in the exclusive USSC Bullpen, a truly unique demonstration of some of the world's finest sign-making, pinstriping, carving, airbrushing, and gilding skills by many of the world's most talented sign craftspeople.
You can learn more about Sign World by calling 215/785-1922. You can register online as well, at www.ussc.org/signworld.
Either way, we hope you will do it soon, and put the power of superior knowledge to work for you!