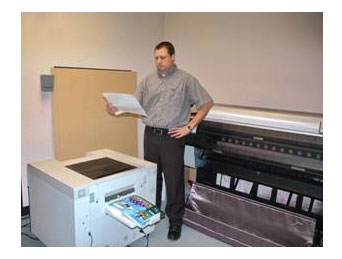 High school football in Texas is a big deal. "Even our photographers feel the competitive vibe when they set up team shots on the football field," said Pete Wagner, vice president of Visual Services of Texas-Houston, LP (VST), a school sports and event photography company serving over 170 schools in the greater Houston area.
VST stepped up its own game in the competitive school photography field when it purchased two Epson® SureLab® D3000 professional dry labs for its Richmond, Texas studio. "Our products have never looked so sharp and vivid," said Wagner. "Driving right into our busy fall season, the two SureLabs are workhorses operating six days a week."
From Wet to Dry Lab
As a high-volume photography company, VST discovered fifteen years ago in-house printing is more convenient and cost-effective than outsourcing. And after years of "putting a lot of miles" on a costly in-house chemical-based minilab, the company stood at a technology crossroads. "We had to decide the cut-off point for investing in older technology that was proving too costly to maintain," said Wagner.
He knew which way to turn when he saw the SureLab D3000 in action at his local Epson representative's studio. "We were content with the quality from our in-house wet minilab, but I was surprised to find the Epson dry lab had quality twice as good, and it was reasonably priced," said Wagner.
After some test runs, he noticed smoother skin tones, color accuracy, shadow-to-highlight detail, clarity, and sharpness. "I saw impeccable quality improvements over silver halide and our aging printers," he said. "It was a no-brainer to figure out that sales orders would increase once coaches, directors, parents, and students saw the brighter colors and quality images."
Ready, Set, Production!
By the next school term, VST had installed two SureLab D3000 dry labs that were printing a high volume of sports photos for 170 high schools and junior high schools – preserving memories of school spirit, students, coaches and teams, whether football, basketball, baseball, soccer, volleyball, track, swimming, tennis, bands, orchestras, choirs, cheerleaders, proms, or homecoming dances.
VST is now producing team pictures at fast speeds with a much lower cost-per-print and total cost of ownership. "Because we're a small business, our workflow is very streamlined for maximum efficiency," said Wagner. "We made a smooth transition to the SureLab without any additional software/hardware purchases."
After a photographer finishes shooting the school event, images are delivered to the in-house studio via camera cards or file sharing. The VST production staff gets busy loading images into a database to sort for each individual school, sport, team, and player. Next, images are edited and retouched using Adobe® Photoshop® and ACDSee™ Pro 7 software. VST also shoots and edits with ExpressDigital® Darkroom(tm) Assembly school group photography management software and field station laptops. Staff use PrintShop® Deluxe to print order envelope labels on a standard desktop printer, with stations for shipping boxed product back to the schools.
High-Volume Heavy Hitter
During VST's busy season, the SureLab D3000 dry labs produce up to 500 prints per day, including 8-inch-by-10-inch pages (combinations of 2.5-by-3.5, 5-by-7, and 4-inch-by-5-inch sizes) and specialty work like 12-inch-by-48-inch team picture panoramas. One SureLab D3000 is dedicated to outputting individual photo packages, while the other prints à la carte products and high-volume 8″x10″ team photos. VST also uses an Epson Stylus® Pro 7900 for large-format printing up to 44-inches wide.
With the SureLab D3000, VST can produce up to 260 8-inch-by-10-inch prints per hour and up to 650 4-inch-by-6-inch prints per hour1 without lab fees or delays. The printer uses Epson's MicroPiezo® print head technology with variable droplet sizes as small as 1.5 picoliters. For use exclusively with six-color Epson UltraChrome® D6 ink cartridges and not with any other inks or cartridges, the SureLab produces water-resistant prints with image quality beyond traditional chemical-based photo labs that will last for generations3. The dry lab is available in a single- or dual-roll configuration, and either unit can be coupled with an optional 10-bin sorter.
No More Hazardous Liquid Waste
"Our biggest money savings with the SureLab came from no longer having to store and properly dispose of hazardous waste," said Wagner. Outside Houston city limits, VST must conform to the limitations and regulations of its off-grid municipal sewage status. Using the SureLab D3000 instead of chemical-based systems, VST can erase costly overhead from its balance sheet – up to $7,000 per year for silver halide effluent storage.
Wagner also appreciates the simplicity of using and maintaining the SureLab D3000. "We just do a little cleaning at the end of the day, and we're done," he said. "Our installer had the printers operational within hours. Additional operator training was minimal for machine maintenance and driver software."
"VST has always strived to be customer service conscious, to approach our clients in a professional manner, and provide a high quality product in a timely delivery," said Wagner. "In Houston and surrounding school districts, we work diligently to maintain our customer base and are fortunate to have tireless support from our vendors. Epson printing technology and involvement has enabled us to live up to our mission."
For more information on Epson's complete line of professional printers and papers, including the SureLab D3000, visit www.proimaging.epson.com.