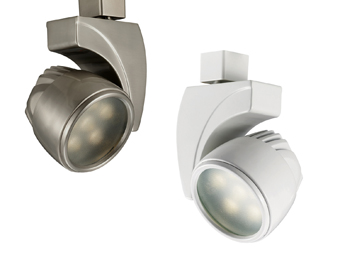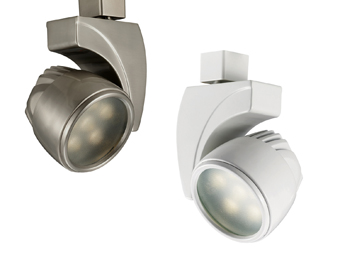 Utilizing the latest energy-efficient LED technology, WAC Lighting is proud to announce the introduction of a high-powered upgrade to the popular LEDme Reflex luminaires. Reflex features enhanced lumen output and new 2700K and 3500K color temperatures, to join the existing 3000K and 4500K. Engineered for precise thermal and optical performance, Reflex is ideally suited for high-end residential accent lighting and effective display illumination in retail shops, museums, hotels and restaurants.
The smaller Reflex model consumes just 8.7 watts and delivers up to 554 lumens, 
while the larger model runs at 17.5 watts and delivers up to 1017 lumens. 
Both models have a high CRI of up to 85 and offer interchangeable reflectors 
in Spot (10°) and Flood (25°) beam spreads.
These highly efficient and sustainable luminaires include replaceable LED modules using ANSI (American National Standards Institute) Compliant LED Bins for the 
finest color consistency possible, offer a 50,000-hour rated life and are 
backed by a 5-year product warranty.
Constructed of die-cast aluminum and available in designer finishes to suit any décor, the Reflex is made for use on WAC Lighting's single circuit and 2-circuit 120V Track systems as well as the Flexrail1™ single circuit flexible rail system and accepts 
up to two lenses or accessories. The LEDme® Reflex can also be dimmed 
on both systems using an electronic low voltage (ELV) dimmer. Reflex can also be used with other popular track systems.