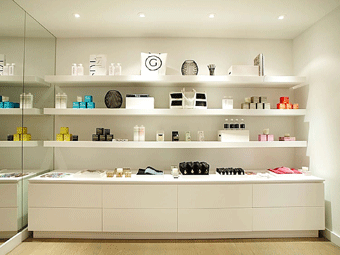 Hello, gorgeous! Lighting is highly critical for the Toronto-based Gee Beauty, which recently opened a makeup studio in Bal Harbour, Florida. When Hollywood celebrities and other discerning customers receive signature treatments, such as Gee Beauty Brows, Ultimate Oxygen Facials, and Paparazzi Makeup applications, the task lighting can truly make the difference.
"We achieved a bright, white clean modern look with WAC Lighting's miniature recessed halogen luminaires that complement the interior décor of the shop," explained Mary Ellen Lynch, principal of Toronto-based Lynch + Comisso: Architecture + Light. "The fixtures provided superior color rendition, so customers look their best in the mirrors while receiving makeup applications and facial treatments."
Designed with the smallest aperture available for commercial projects, WAC Lighting's three-inch Open Reflector halogen recessed luminaires were installed throughout the shop for high quality light and performance while providing an unobtrusive architectural look on the ceiling. As optimal ambient lighting is highly critical in a beauty shop, the recessed downlights use a 50-watt MR16 lamp for a clean, crisp white light and excellent color rendering for ambient lighting throughout the space. Constructed of die cast aluminum for maximum durability, the recessed downlight trims are featured in an abrasion-proof powder coat white. The fixtures offer a 25-degree adjustable beam angle for a variety of applications.
Inside the treatment rooms, WAC's versatile Button Lights are designed with a low profile and shallow depth that enabled placement under cabinet spaces for a built-in look. Constructed of steel, the Button Lights combine form and function for discreet under cabinet lighting. The luminaires use 20-watt bi-pin xenon lamps for low energy consumption while providing a robust beam for task lighting.
"We have used WAC Lighting before, and our clients have always been very pleased with the results," explained Lynch. "This 'Responsible Lighting' manufacturer truly gets it right, incorporating the latest technology, long lasting products, energy efficiency and superb designs into their offerings."
To make the cosmetic products pop in the showroom, the award-winning InvisiLED® Classic tape lights with a 3500K color temperature were incorporated into the millwork of the narrow shelving for optimal task lighting. As many health and beauty products are heat sensitive, it was imperative to use cool-operating LED fixtures. The tape lights, featured in white, use just two watts per foot and provide a long life of 50,000 hours. The energy efficient InvisiLED® was easy to install and virtually invisible, while providing the ultimate in flexibility and delivered with precision and quality.
"With a high-end business and a very discriminating clientele, it is vital that customers look their best and in the right light," continued Lynch. "WAC did that and more."