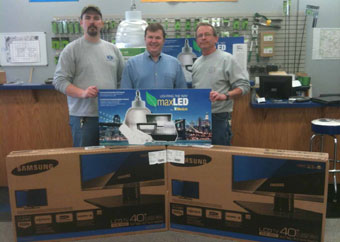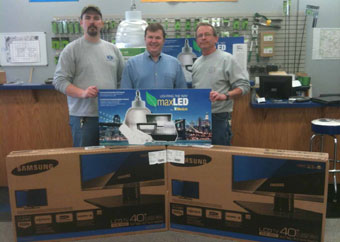 MaxLite announced that the Arkansas branch of Elliot Electric Supply and its customer Scott Electric each received an HDTV in the "Tri-Season Gondola Customer Appreciation Sweepstakes," the company's third sweepstakes held last year. Elliot Electric Supply and Scott Electric each received a 40-inch Samsung LCD HDTV, courtesy of MaxLite.
"Along with our customer, Scott Electric, we were very fortunate to win MaxLite's Gondola Sweepstakes," said Russ Strange of Elliott Electrical Supply. "We love MaxLite's Gondola display program and our customers enjoying turning on the LED fixtures so they can see them in use."
"It's always nice to see an individual who is working hard to grow MaxLite's sales and product recognition," said MaxLite Vice President of Sales Central Kim Kiesgen. "MaxLite appreciates the opportunity to work with partners like Russ and Scott Electric."
The program, which began June 1, 2011, encouraged MaxLite distributors to use gondola racks for displaying a wide range of MaxLite fixtures and lamping. Each gondola included a sweepstakes entry box, two free demonstration fixtures, an eye-catching, four-color header featuring the MaxLite brand, and wheels for easy merchandising and relocation throughout retail aisles. The freestanding merchandiser was constructed with four shelves and two literature racks that are stocked with sales materials.
When a customer purchased a MaxLite product from the gondola rack in a distributor's store, the dealer and the customer filled-out one entry form to win a 40-inch Samsung LED TV or LCD HDTV. The sweepstakes was limited to one entry per customer, per drawing. The distributor sent all entries to MaxLite by the date listed below using the FedEx pack sent with the entry box by MaxLite.
The third and final MaxLite Gondola Sweepstakes drawing was held on December 30.