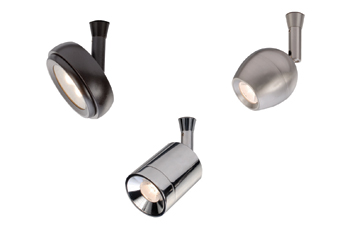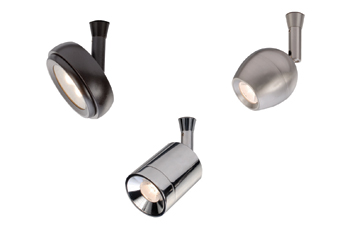 Offering versatile track luminaires that integrate clean aesthetics with the latest LED technology,
WAC Lighting
has introduced three new Miniature LEDme™ Quick Connect Luminaires—Portal, Charge, and Ovum. These Quick Connect™ fixtures can be used with WAC's wide range of track and rail systems.
Constructed of die-cast aluminum, the three LEDme™ luminaires deliver strong projected light without any heat or radiation. Dimmable with an electronic low-voltage dimmer, the fixtures rotate horizontally 360 degrees and have a 90-degree vertical tilt.
Ideal for placement in residential, retail, hospitality, and commercial applications, Charge, Ovum, and Portal can be used with the company's Quick Connect™ Canopy Mount; 120-volt Track Systems; Linear Track System; FLEXRAIL1™ (single-circuit line voltage monorail system); FLEXRAIL2™ (two-circuit line voltage monorail system); Solorail™ (single-circuit low voltage monorail system); and Duorail™ (two-circuit low voltage rail system).
Portal consumes just 3.76 watts, using three LEDs and delivering 100 lumens with a 3000K-color temperature and a wide beam spread. Ovum and Charge consume just 2.69 watts each, using LEDs that deliver 109 lumens with a 2900K-color temperature, and they are available in spot (8 degrees), flood (25 degrees), and wide beam angles (40 degrees). The LED luminaires minimize energy consumption and maintenance while extending their life to 50,000 hours.
Mounting hardware is available in numerous designer finishes to coordinate with a variety of decors, including Brushed Nickel, Black, Dark Bronze, White, Platinum, and Chrome. The luminaires have a five-year warranty.