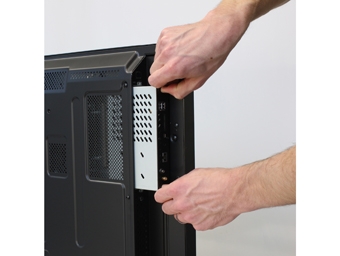 Wondersign® and NEC Display Solutions of America, Inc. are proud to partner together in a move that offers more versatile high-end turnkey solutions to its digital signage customers. Wondersign, a leader in cloud-based digital signage services, is thrilled to support NEC's new digital signage player based on the Open Pluggable Specification OPS. This Android-based Media Player is capable of full 1080p high-definition playback thanks to its quad core ARM® Cortex®-A7 processor and integrated eight logic core graphics processor.
"As a true hardware-agnostic software provider, our goal is to provide clients with the freedom and flexibility to choose the best solution for their individual needs," says Andy Reinhard, CEO at Wondersign. "A partnership with NEC, a leading edge technology provider, fits nicely within these objectives."
"NEC is truly excited to partner with Wondersign," says NEC President and CEO Pierre Richer. "We are happy that our products will help extend Wondersign's full service solutions to high-end hardware users."
Wondersign offers its users one of the most comprehensive and affordable digital content solutions for signage and digital out-of-home (DOOH) Media. With easy drag & drop playlist management, automatic transcoding, and a selection of hundreds of professional designed screen templates, Wondersign is the ideal solution for small and medium-sized enterprises that are looking to manage their entire network online.
Wondersign is an easy-to-use, affordable, and powerful cloud-based digital content distribution service for digital signage and interactive kiosks ideal for in-store marketing and on-premise upselling as well as digital out-of-home advertising. An intuitive administrator's console allows for the creation and scheduling of attractive content with zero technical knowledge and no additional software.
Wondersign can be used for an unlimited number of displays in multiple locations around the globe and supports a variety of hardware products from different manufacturers. Wondersign's United States headquarters is located in Tampa, Florida. For more information, visit www.wondersign.com.
Headquartered in Itasca, Illinois, NEC Display Solutions of America, Inc., is a leading designer and provider of innovative desktop LCD monitors, commercial- and professional-grade large-screen LCD displays, a diverse line of multimedia and digital cinema projectors, and integrated display solutions. NEC Display Solutions develops leading-edge visual technology and customer-focused solutions for a wide variety of markets, including enterprise, healthcare, education and digital signage. It has deployed more than one million large format displays worldwide. For additional information about NEC Display Solutions of America products, call 866/NEC-MORE or visit www.necdisplay.com.