Most shop managers recognize the importance of production scheduling, but few really benefit from the results that can be gained when the right system is put in place—one that sets clear priorities for everyone and a methodology that maximizes workflow.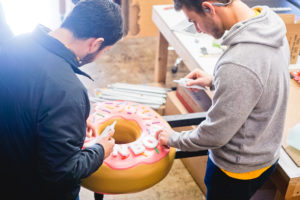 The fact is scheduling can be hard, and the solution is the way in which you actively manage Material Flow, People Flow, Product Flow, and Information Flow.
Join John Hackley, CEO of Oculus Business Solutions, on March 22 at 2 pm ET, as he expands on his how-to column about maximizing workflow appearing in the March 2022 issue of Sign Builder Illustrated. Tune in to this webinar and learn:
Key strategies to get jobs done faster
Ways to yield huge bottom-line improvements with little or no out-of-pocket expenses
How to actively manage and maximize your workflow
Attend the webinar on March 22 at 2 pm ET, "Three Low-Cost Ways to Maximize Production Workflow," and you'll be on your way to enjoying more life and more profit.