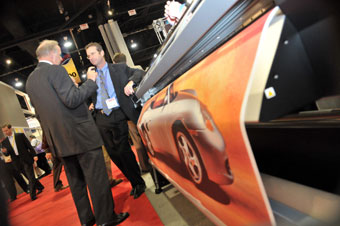 The strength of the 2013 SGIA Expo in Orlando was an indicator of what has become a sign and graphics industry certainty: Wide format inkjet technology has fundamentally changed the way we run our businesses, the way we structure our product offerings, and the expectations our customers have of the services we provide.
Whether your company came to wide format graphics from any of the many industries that have adopted this ascendant technology (sign producers, graphics providers, commercial printers, photo labs, repro graphic shops, and more), the goal is the same—to tap into the energy, profitability, and growth potential the technology provides. This article will guide you through several recent trends in the wide format graphics industry.
Technology for Production
With more than 250 different wide format inkjet devices on the market today, there is truly a machine for everyone—ranging from sub-$15,000 models that offer sign shops and others a cost-effective way to produce durable one-off and short-run graphics to $3,000,000+ super-flatbeds that possess the speed and capabilities needed to compete head-to-head with analog printing processes.
So what should you pick? Virtually all of the machines that are available on the market today are capable of producing saleable, even beautiful prints.
What the differences in cost get you are increased throughput, wider (or larger) print sizes, and more robust build quality.
So do your research before you buy and make sure any machine you purchase fulfills your current needs in suitability for the end product, speed, and quality—with room to grow in all of these areas. And don't buy a Ferrari when all your business needs is probably a Ford. Save that money for other purchases (like media and finishing capabilities).
While there is much focus on inkjet printing technology among industry analysts, it's important to not get so tied up in imaging equipment that you lose touch with a simple, but critically important concept: The printer makes only the print.
It's the finishing steps, materials, and technologies used that truly make that print into the intended end product. So whether you're producing banners, stand-up displays, or vehicle wraps, you need to keep in mind that the print itself is the only commonality.
In the spirit of this reality, one of the best ways to expand your wide format business is to expand your finishing capabilities, as finishing is a "multiplier" for potential end products.
Media products have exploded over the past several years, leading to numerous choices both for those specifying the printing and those doing the production work.
While media products can be seen as a multiplier of opportunity for sign and graphics producers, one particular challenge is inventory control.
If you're dealing with too few products, you may find yourself incapable of producing certain jobs because your material choices don't allow you to "go there."
Conversely having too many products can lead to the chaos of a facility full of media that your employees have little experience with or to the expense of spoilage of products that were purchased for a singular job, then left on a shelf until thrown away.
Again it's important to do your research. Find your materials "sweet spot" and stick to it.
Where the Money is Made
Here's another simple truth: While it's easy to understand our companies are in the graphics business or the sign business or the printing business, it's often overlooked that we're all really in the "making money" business. So it's essential to understand where money is being made.
According to one of SGIA's recent survey reports, sign and graphics companies serve, on average, 7.9 market areas. Retail stores continue to be the top market area served by sign and graphics companies, followed by corporate branding, food services, and ad agencies. Interior decorators/designers/architects is the market seen as growing the most, and print for the trade is the market seen as declining the most.
Beyond the surface of this data, I see that some companies are looking to supplement traditional graphics (images to convey a message) with decoration (embellishment to increase aesthetic appeal) as a way to move into producing mass customized products.
We also found that sign and graphics companies serve, on average, 12.8 product areas. Banners, indoor wall graphics, and window displays are the product areas most served by sign and graphics companies, followed by point-of-sale and vehicle graphics.
The product area seen as growing the most is indoor wall graphics, while the product seen as declining the most is billboards.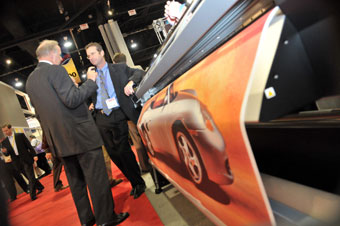 What we learn from this data is that the variety of end products is vast. What separates them is usually the materials and finishing processes used. Truly those companies that master process/material choices possess an advantage over the competition.
While it's tempting for any company to venture into new markets or product areas, it's important to do your research first (I assume you're noticing a theme in this article), then make your moves carefully.
Any move you make must match the long-term goals of your sign or graphicsbusiness, and if it isn't right or you can't do it well, then think twice before jumping in.
Looking Forward
If there's one strategy that I cannot stress enough, it's to stay informed. You're reading this article and this magazine, and that's great. Consume as much industry knowledge as you can.
If you're interested in growing the wide format component of your business, then I recommend marking your calendar today to attend the SGIA Expo this fall (October 22-24, Las Vegas). This event is the place where you can see, learn about, and buy from the widest variety of choices and network with thousands of others who are doing the same.
By Dan Marx. Marx is vice president, Markets & Technologies, of the Specialty Graphics Imaging Association (SGIA). With SGIA, he works to raise awareness of the specialty graphics industry and helps printers and their customers identify and adopt new technologies and access lucrative market areas. In his more than twenty years at SGIA, Dan has presented at a variety of industry events and has served as an enthusiastic ambassador for innovative imaging technologies. If you'd like to contact Dan, he can be reached at [email protected]
Photos: