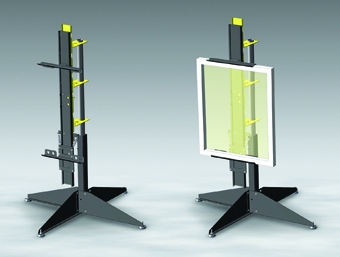 The new C-100 Screen Coater Rack from Vastex International holds printing screens firmly in place for repeatable results, saving time and improving consistency.
Available in a wall-mount or stand design, the rigid carbon steel rack allows fast clamping of screens in all popular sizes from 23 to 36 inche (58 to 91 cm) long and requires no tools to adjust for height or screen size.
"The C-100 Screen Coater Rack is the affordable answer to the never-ending chore of coating screens. It frees up the operator's hands so screens can be coated evenly and consistently, without the worry of screens slipping or dropping," says Mark Vasilantone, president of Vastex International.
The rack, which has a durable baked-on finish, comes standard with wall mount hardware, and is available with an optional stand with or without wheels.
It weighs 20 pounds (9 kg) or less and is shippable via UPS or other common carrier.
Vastex is a leading producer of commercial- and industrial-grade manual screen printing presses, flash cure units, LED screen exposing units, screen drying cabinets, washout booths and complete screen printing shop systems, and offers a comprehensive range of training classes for entry level, intermediate, and advanced screen printers.
For information, call 800/482-7839 or visit www.vastex.com.