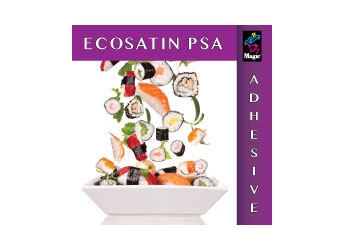 Coveris™ Advanced Coatings Digital Imaging division, a global market leader in the development and fulfillment of high-performance digital imaging substrates, announced the introduction of Magic® ECOSATIN PSA today.
ECOSATIN PSA is a satin paper with a pressure-sensitive adhesive. ECOSATIN PSA offers an economical solution by eliminating the step of applying a mounting film. ECOSATIN PSA is one-side printable and is designed to offer exceptional print performance with Solvent, Eco-Solvent and UV Cure printing systems.
Magic® ECOSATIN PSA is available immediately in sizes of 50 inches-by-15 feet and 50 inches-by-100 feet.
"We are committed to continuously expanding our product offerings to meet the needs of the digital imaging market. ECOSATIN PSA is a innovative product that reduces production time by eliminating the step of applying a mounting adhesive. Just print, peel, and stick" said Jennifer Chagnon, Director of Digital Imaging at Coveris Advanced Coatings. "We are very excited to add this product to our extensive product portfolio of wide format media."