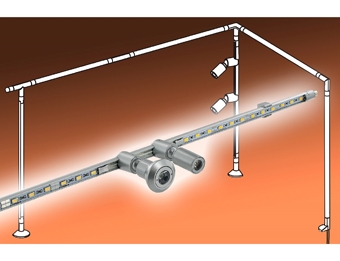 Unprecedented in both design and application, Outwater [Outwater Plastics Industries, Inc. + Architectural Products by Outwater, LLC] introduces its highly refined, easy-to-use 12 Volt Omni Wand T2 LEDand Omni Spot Vertical LED Lighting Systems.
Comprising aesthetically stunning, super slim profile aluminum LED lighting fixtures and movable LED spotlights, which when utilized in conjunction with the systems' array of complementary, modular component fittings and accessories, provide exhibit and display designers and producers with the flexibility and freedom to readily create and install fully customized, infinitely adjustable, seamless linear LED lighting configurations to accommodate a host of lighting requirements without exposing any incongruous fixtures or unsightly wiring.
Similar in illumination to much higher wattage bulbs of comparable media, Outwater's Omni Wand T2 and Omni Spot Vertical LED Lighting Systems produce high lumen output (up to 540 lumens per foot) and color rendering indexes (up to 80 CRI) to ensure that your exhibits, displays, showcases, and shelving always look their very best.
Offered in both cool white (6,500K) and warm white (3,100K) color temperatures, the systems are ultra energy-efficient, yet consume only a few watts (with an approximate 50,000 hour bulb life). Additionally no heat emissions or generated UV radiation render the systems ideal for all types of uses.
Presented as the thinnest and brightest light in its class, Outwater's Omni Wand T2 LED Lighting System shines in applications where other types of lighting pale by comparison. Encompassing a 12-inch-long, 1/2-inch-diameter silver anodized aluminum LED lighting fixture with an integrated impact resistant, frosted polycarbonate diffuser lens that radiates a generous 120º linear beam spread, Outwater's Omni Wand T2 LED fixtures (which can be easily rotated even after installation to direct lighting wherever it may be desired) connect end-to-end or by means of the system's connecting cables and connectors, and mount in a variety of horizontal and vertical arrangements using the system's mounting clips and end caps.
Along with the Omni Wand T2 LED Lighting System's unmatched ability to provide non-directional, ambient illumination, Outwater's Omni Spot Vertical LED Lighting System, through the incorporation and use of a corresponding snap on LED spotlight, can be mounted anywhere along the length of the Omni Spot Vertical LED Lighting System's kitted 10-inch- and 16-inch-long, 1/2-inch-diameter silver anodized aluminum fixtures to furnish concurrent, evenly dispersed 120º linear and targeted 15º beam spreads for settings necessitating both broad-spectrum and directionally objective lighting. Offered with modern or bell style spotlight fixtures and 90º corner mount and 180º center mount bases, the system can be conveniently and inconspicuously positioned along the perimeter of the piece to be lit.
Outwater's Customized Omni Wand LED Lighting System's fixtures can also be quickly and simply configured either in the shop or right on the jobsite with available, easy-to-cut 4-foot- and 8-foot-long, 1/2-inch-diameter silver anodized aluminum extrusions, trimmable 12-inch-long LED rigid ribbon lighting strips, solder-free connecting clips (which permit multiple LED rigid ribbon lighting strips to be seamlessly connected to one another), and a host of obtainable power supplies, switches, dimmers, sensors and accessories needed to complete your installation.