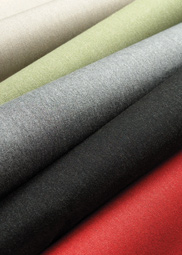 Digital textile printing on soft signage has been a major growth area for several years, and this growth continues to accelerate at a rapid rate. One of the most significant opportunities is in premium backlit fabrics for retail, commercial, and tradeshow displays.
Increasing numbers of mid-range and high-end retail stores are opting for the look and feel of fabric for in-store signage. The same is true with airports, commercial marketing venues, and tradeshows. The opportunities are growing even into recreational venues such as amusement parks and sporting arenas.
How do you stay ahead of the curve and gain business from this exploding market sector?
Determine how to differentiate your offerings. What do you have that's new, different, or worthy of extra time and attention—both from your customer's perspective and the end-user's perspective?
This is critical in today's changing market, and one opportunity is in backlit fabric.
Backing Up Backlit Fabric
In some major domestic cities, backlit advertising is prevalent, whereas in others it isn't yet widely used. Even for those who print in markets that are saturated, differentiation is feasible.
A common misperception in our industry is that a backlit is essentially, well, a backlit. Due to the explosive growth, many suppliers will brand a fabric as being "backlit" to take advantage of the demand being created by the market.
The truth though is that not all backlit fabrics are created equal.
So from a technical perspective, what do you need to be on the lookout for in a backlit fabric?
Quality backlit fabrics are typically heavier fabrics weighing at least eight ounces on average, with premium backlits often weighing at least nine ounces. Premium products are knit and can be cold-cut as opposed to being hot-knifed, as they will not be frayed on the edges of the roll. This makes the print and finish process extremely easy while creating a clean finish without excess waste.
Most authentic backlit fabrics will be coated to maintain optimal color density and exceptional finished print quality. This is extremely important for the elimination of "pin holes" and "hot spots" when the fabric is placed in a backlit frame.
There are a variety of quality backlit frame manufacturers in the market, and the majority use well-designed LED lights to illuminate the fabric.
Pin holes or hot spots are created by the lighting when the backlit fabric is not properly coated. This allows light to be too intense (resulting in hot spots) or to show through small areas over the surface of the lit fabric (resulting in pin holes.)
Excessive pin holes or hot spots can be controlled with state-of-the-art knitting technology and by utilizing advanced proprietary coatings and finishes during the manufacturing process.
LED lighting should be properly diffused by the finished fabric, giving the end-product an impressive, high-quality look and feel.
The end-result will be a display that presents a wide, brilliant color gamut with unmistakably rich, dark hues, as well as bright, impactful colors.
Increasingly those who win bids for high-profile projects are working with high-quality backlits. Giving your production team this advantage can make the difference in winning the project.
There are other critical aspects to consider when choosing a high-quality backlit fabric as well.
In addition to the fairly obvious needs of selecting a total solution that includes the right equipment, ink, and printing technology, the construction of the fabric is critical.
For example, you need a fabric with just enough stretch to properly fit a frame.
Excess stretching in the fabric will cause the fabric to sag in areas, especially in large backlit frames. It will also cause wrinkles where the silicone edge snaps into the frame.
A poor fit won't result in the dazzling brilliance that quality backlit is known to produce. The finished look should be smooth, as if the surface appears to be glass.
The weight and stretch of the fabric are also important to consider when applying the silicone edge to the fabric. Fabrics without the proper construction and high tenacity yarns are very difficult to finish, and attempting to properly apply a silicone edge can cause headaches for the printer and end-user.
Before you choose a backlit fabric, study your options, print sample rolls, and take the product all the way through the stages of production to test the viability of the end-product for your customers.
Providing a high-quality product will bring loyalty and residual business, as your customers continually change out the fabric for new fashion seasons, holidays, tradeshows, events, and in-store promotions.
An additional benefit of choosing a backlit targeted to retail, expo, and event customers is that it may double as an upscale frontlit fabric.
Premium backlits are outstanding when printed for frontlit applications too. They show especially well with event lighting that moves across the display, as this has become increasingly popular for high-profile special events.
Fabric Mesh: A New Hit on a Growing Market
Fabric mesh is rapidly growing in popularity in the soft signage market. Fabric mesh offers an ideal solution for indoor as well as short-term outdoor applications. Examples include marathons, football stadiums (and other sporting event arenas), golf tournaments, and outdoor concert venues.
In the past, vinyl mesh was commonly used for these types of events. Fabric mesh can be sustainable just like backlit fabrics and many other fabric media options, and it can yield surprisingly favorable margins.
In addition to the availability of PVC-free and fully REACH-compliant options, fabrics are always much less expensive to ship than vinyl, which conserves fuel and shipping costs.
Additionally fabric displays are easier to install, which typically saves in labor costs as well.
Vinyl stays in the environment forever, while fabric can be recycled. Fabrics also provide recurring business.
A great fabric mesh will be constructed of high-tenacity yarns to withstand short-term outdoor climate changes and should be at approximately a 65/35 airflow.
The printed, finished product allows premium print results, with proper airflow, strength, quality, and tenacity. It will last more than a week outdoors and makes for perfect signage indoors too, where light can show through the fabric without affecting the quality of the printed imagery.
A Fabric-fresh Outlook
The graphics and sign segment is strong and growing.
In fact, the recently released 2014 SGIA Specialty Imaging Industry Benchmarking Report for the Graphics & Sign Community indicates that companies reported median sales growth of 17.7 percent for 2013, as compared with 19.2 percent in 2012 and 16 percent in 2011.
Further inspiring confidence, the report shows that two-thirds of companies self-reported that both their sales and production levels increased during 2013 and that 45 percent of companies reported increasing employment during the same period.
The moral of the story is that the market continues to expand, and there's business to be won both by hard work, dedication, and outstanding performance, as well as taking the steps to stay ahead of the competition.
When choosing a fabric for an application, always study your options—keeping in mind that fabric construction is critical to print quality, finishing, and an impressive finished product. If you're paying approximately the same price per square foot, why not choose a fabric that will help you win more business?
Also be sure to choose a vendor that will stand behind their products and help you create the finished product that best meets the needs of your company and customers so you can impress them and earn their business time and time again.
By Mike Compton, business development manager for Top Value Fabrics.
Photos (Top to Bottom): Top Value Fabrics; Trivantage.