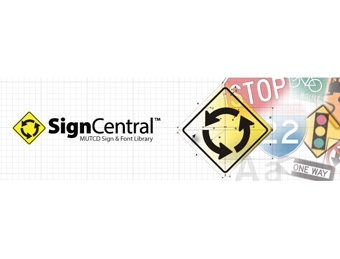 TAPCO has been an industry leader in MUTCD sign making software packages that fit the needs of the smallest municipal sign shop to large DOT and privately owned manufacturing plants. The TAPCO traffic sign making systems have progressed from GDC to SignIT to DesignIT to TIPS. The company is now proud to announce the latest traffic sign-making library from TAPCO, SignCentral™.
SignCentral uses TAPCO's new Application Manager Software to ensure that the SignCentral library is always up to date. It will check for library updates automatically daily or manually if you prefer. When you purchase the library, TAPCO will email download instructions with your serial number and license key to get up and running.
This library includes over 3000 signs, symbols, borders, arrows, and pavement markings available at your fingertips for you to manufacture your own signs.
Simply select any pre-designed sign or graphic from the library. You can also modify any legend to suit your situations,or create your own wording.
Also included is the Standard Highway Alphabets Series 2000 as specified by the Standard Highway Signs and Markings. SignCentral also supports Clearview™ fonts for guide signs and other MUTCD-approved applications.
For more information, click HERE.