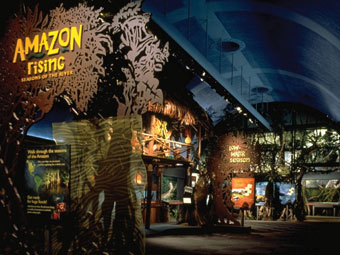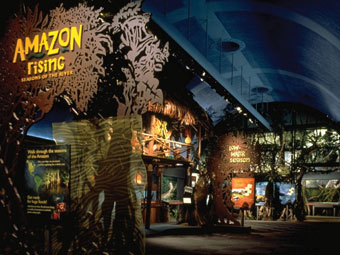 Lori Shridhare
When Paul Bluestone, founder of Chicago-based Bluestone + Associates and Bluestone Design Build, thinks about designing exhibits and signage for museums, it boils down to an essential concept: the story. "It's our philosophy that there is no subject that's inherently boring," says Bluestone. "The success of the storytelling lies in the passion of the storyteller."
Each project unfolds as a process of telling the story that lies behind the exhibit, and it falls to Bluestone and his team to come up with design elements that will "transmit" this story to the audience in an engaging way.
"When we sit with a client for the first time and listen to them talk about their vision and their [background], we see it as our responsibility—but the truth is that we love doing it—to invent ways of telling that story that will make their visitors stop in their tracks," says Bluestone. "We pay close attention and ask questions. We want to explore and discover more."
Bluestone's thirty-plus-year design career has included work in many of Chicago's museums devoted to exhibits on a range of topics, including art, history, anthropology, industry, geology, and other areas of the natural sciences.
After working as vice president of planning and design at The John G. Shedd Aquarium for eight years, Bluestone decided to open his own design office in 2003. While Bluestone + Associates designs exhibits and signs for museums, zoos, aquariums, botanical gardens, and other institutions, Bluestone Design Build, Inc. (BDB) is dedicated to the full spectrum of design-build services.
About 75 percent of the company's work falls into exhibit design, 20 percent in signage, and 5 percent in wayfinding. Their general services range from content research and writing to interpretive master planning. They also handle animal habitat design, a unique area that comes in handy when working on projects for outdoor nature centers. Beyond museum work, Bluestone + Associates designs and builds retail signage and façades.
Shedd Aquarium
For Shedd Aquarium's Amazon Rising and Wild Reef exhibits, the goal was to create a memorable experience for the visitors, the staff, and the animals, which, says Bluestone, "while somewhat reverent to the architecture of the building, tells a more emotive, immersive, cohesive, and relevant story."
The setting was unique: Shedd is one of the oldest aquariums in the country, housed in a limestone, Beaux Arts "castle" that opened in 1930.
For both exhibits, the BDB team was responsible for content research, development and writing, exhibit design, graphic design, wayfinding design, interactive development and design, photo research, and animal habitat design. The company also acted as the liaison with the architects and contractors to manifest their designs.
So if it's a rainforest exhibit, there must be water. To achieve this effect, Bluestone + Associates designed a wall of rain to mark the transition from the dry season on the Amazon River to the rainy season. Visitors walk through and under this wall to enter the next section of the exhibit.
For both exhibits, the scale of the aquarium tanks was designed to differentiate the exhibits from one another. Clear acrylic walls were added in the tanks to create the illusion of a wall of water that appears taller than the viewer.
There's no apparent separation between the viewer and the underwater life as the overhead tanks in the Wild Reef exhibit surround the visitor on all sides, so animals are swimming underfoot, overhead, and on each side.
Soundscapes present in both exhibits attempt to create the feeling of being underwater or on an Amazon floodplain during the dry season or in a downpour in the rainy season.

The challenges of this project were related to the age of the building. "Exhibits eighty-four years ago weren't immersive and experiential but more didactic and [orderly]. Things to display were lined up in cases (or tanks) to view, and little explanatory text was thought necessary—let alone the need to tell a coherent story," says Bluestone.
There were serious challenges in adapting the building to a different kind of exhibit experience—structure, HVAC, lighting, animal husbandry, traffic flow, acoustics, etc. However all the challenges of working with an aging structure paid off, since both exhibits are popular with the public and have garnered such awards as "Exhibit of the Year" from the American Zoo and Aquarium Association and the American Association of Museums.
"These exhibits have also helped change the public's perception of this aquarium," says Bluestone.
Hidden Oaks Nature Center
Another project highlights BDB's work in interpretive signage for a nature center. When a new platinum LEED structure on the banks of the DuPage River west of Chicago was designed for the Hidden Oaks Nature Center, the company was hired to create an interpretive master plan for the building and site and to design and build the interior and exterior exhibits and interpretive signage.
Working with a local sculptor, the team created life-size impressionistic sculptures from recycled steel parts, which were placed along the trails leading up to the building from the parking area.
"Visitors to the nature center are surprised by representatives of species that used to inhabit the land they're walking on," says Bluestone. "First there's a coal shark from 500 million years ago, then a full-size wooly mammoth from 38,000 years ago, and finally a group of Paleo-Indians from 12,000 years ago."
The firm also created a "sound and scent" interactive experience, as part of the wall exhibit in the nature center. The theme of this exhibit focuses on how animals communicate in the wild using scents and sounds; visitors try to identify animals through scents or calls.
A glass floor that allows center visitors to see into the root system of a recreated Bur Oak tree was also created. "Visitors can peer through the floor and see the life that's underground. They can also press a series of buttons on an interactive graphic panel and see where each animal on the panel is hiding in the tree branches, its trunk, or below in its roots," says Bluestone.
The firm incorporated LED lights into the recreated tree, allowing visitors to see all of its layers. LEDs of different colors reflect the flow of water and nutrients from the soil below and from the leaves above.
One major takeaway after completing this project: "Outdoor elements, particularly wood, really does take a beating in the weather," says Bluestone.
A unique addition to the center's interpretive signage is the bathroom signage. Since the nature center doubles as an early childhood center, the firm developed and designed a set of signs for the bathroom walls and stalls, with children as the key audience.
These signs, says Bluestone, communicate in a funny and irreverent way how "poop and pee" happens in the animal world. "This signage has become a wildly popular feature at the nature center," he says.
The Future of Design
As these projects demonstrate, much of Bluestone + Associates' work is guided by their philosophy and design guidelines. "As far as the look and feel of the solutions are concerned, we try to keep the aesthetic, message, and mission of the client in mind throughout the process," says Bluestone.
For installation, Bluestone works with its sister design-build company, but typically they team with a set of regular contractor partners for the bulk of exhibit and signage fabrication.
"We're trying to build into our projects elements of highly unusual detail that we can (and love to) self-perform," says Bluestone. "We contract with our clients in different ways: design only; design contract with the invitation to bid on the build portion of the project; and design/build.
"Design/build gives us more control over the finished product. The clients seem to be more comfortable knowing that the partner they have throughout design will be standing by them (and accountable) in construction and installation."

In terms of technology, they're working with numerous applications that can be integrated—including smart phones, fiber optics, sensors and proximity switches, LEDs for MMS, and exhibit lighting. For wayfinding, they're using phenolic resin all-weather graphics, LEDs, and proximity switches.
Looking ahead, Bluestone predicts the following improvements to the palette of choices in this industry: Direct-to-substrate digital printing (which "continues to improve and make more options available to us"), CNC equipment, CAD software, LED and CFL lighting, and improved all-weather, full-color media. "The incentive to create greener materials and processes seems to be gaining speed and will continue to do so over the next ten years and beyond," he says.
Bluestone also sees interactivity becoming an essential part of exhibit design. "As a culture, we're becoming more integrated with smart electronic technology and, in that sense, expect it to be part of our experience," he says. "One of the benefits of interactivity can be to insert yourself into a story, to tell your own story, and to make the experience relevant to you.
"But in the sense that there's an expectation that you may find a critical mass of the 'real thing' at a museum or similar place, touching a real 500 million-year-old fossil of a squid ancestor can be an experience of a very different nature than connecting with it through an interactive electronic medium."
Bluestone concludes with a key point in his design strategy: "Exhibit design is about telling stories in compelling ways," he explains. "It's our responsibility to understand the client's vision and convey the stories to their audience in the strongest ways possible."
Photos courtesy of Bluestone + Associates.