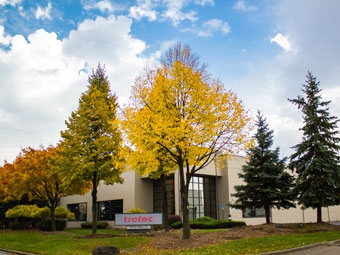 Trotec Laser, Inc. announced that it is relocating its U.S. headquarters to Plymouth, Michigan.
The company will move into the expanded space during the week of Nov. 7-11. The office will be closed at 1 p.m. on Thursday, Nov. 10 and on Friday, Nov. 11, and will fully occupy the new facility by November 14, 2016.
The new 25,000-square-foot facility doubles the company's current space – including larger office space to accommodate its growing staff, a much larger warehouse, a state-of-the-art applications lab, and an expanded Regional Service and Support Center for product demos, materials testing and training events.
Trotec Laser, Inc was established in the United States in Mississippi in 2002. Over the past six years, the business has grown to ten times its original size. This is the company's third move in the past four years to accommodate business growth — moving first to Ypsilanti, Michigan, then to Canton, Michigan, and now to Plymouth, Michigan.
"We are thrilled about the move and the progress it symbolizes," says Warren Knipple, president of Trotec Laser, Inc. "It signifies our growth as a company and represents new opportunities to provide our customers with top-notch products, technical support and follow-on sales support."
Trotec's new address is:
Trotec Laser, Inc.
44747 Helm Ct.
Plymouth, MI 48170