Aaron Kruger, owner of Minuteman Press in Puyallup, WA, has acquired twenty-five-year print business Advantage Graphics from John and Joyce Lee. The acquisition was completed on January 11, 2023. Minuteman Press is located at 2102 E Main Ave # 111, Puyallup, WA 98372.
On the acquisition, Aaron says, "This is an exciting time for our business and we feel like this will be a real game-changer that will help expand our client base, add new in-house capabilities for our clients, and nearly double sales. John sold the business and is now working with us at our center alongside the rest of our professional team. John is great with mailings as well as wide format printing.  We have already found that his knowledge in these areas has allowed us to produce more in-house jobs with shorter turnaround times for our clients.
"We are looking forward to providing outstanding quality and service to over 800 new clients and we are offering free delivery for local orders."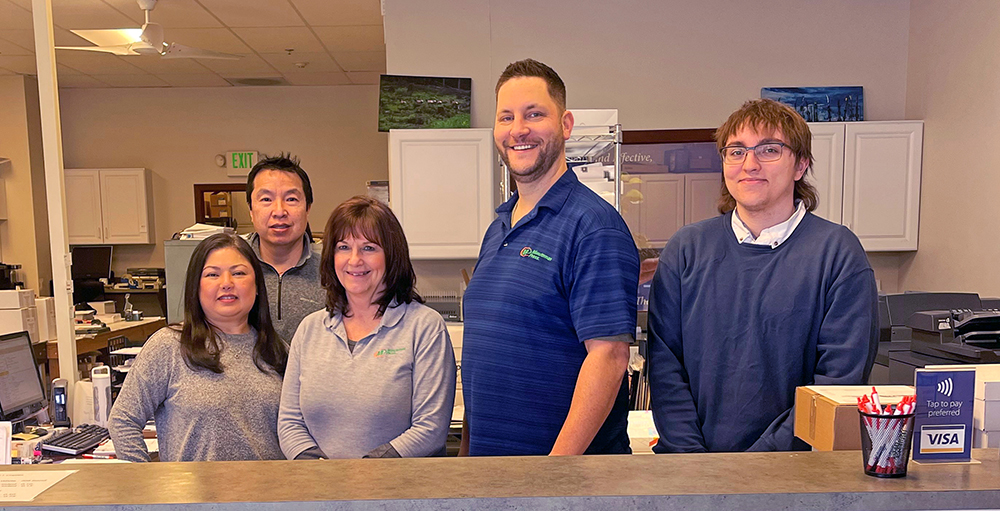 After selling the business and seeing the transition up close, John shares, "We are about three weeks into the sale, and the transition has been even better than expected. Our clients have accepted the move and embraced it. We are thrilled about Aaron's ability to be flexible and continue relationships with our clients."
History of Minuteman Press in Puyallup
Minuteman Press in Puyallup has operated for over twenty years. In March of 2020, Aaron Kruger realized his childhood dream of owning a business when he purchased Minuteman Press. He shares, "I knew that I loved business and wanted to be an owner one day, even since I was little. I never really knew what type of business I wanted or how to make it a reality.  I worked in retail and restaurant work for most of my life until I decided to make my dream come true. I went back to school and got my degree in business from Arizona State University.
"After graduation, I started to look for the perfect fit for me. I looked at every type of business I could think of.  Once I found Minuteman Press, I knew that this was the right situation for me.  From the FLEX pricing and management software to their cap on royalties, this made the decision rather easy."
One week after buying the business, the pandemic hit. Despite these challenges, Aaron was able to persevere and he's now celebrating three years in business in March of 2023. "Minuteman Press was there to help me navigate through these unprecedented times," says Aaron. "If I ever had a question or needed something, help was only a text or phone call away."
During his three years as a business owner, Aaron has learned to have fun while promoting his products and services, and his business has grown as a result. "I have been trying to bring some fun and new ideas to customers," he shares. "For example, I love helping people find business cards that make them stand out against all of the others that are out there. One of my favorites has been suede business cards, which have a really unique look and feel.
"Another thing we've been doing is promoting mailings. We offer both direct mail and Every Door Direct Mail. Both options are great for getting businesses in front of potential customers. In addition, I think what has helped us the most is just to focus on providing that great service and great quality at a fair price. We also try and make the entire process of working with us as easy as possible so that our customers can focus running their businesses instead of spending lots of time and effort on printing."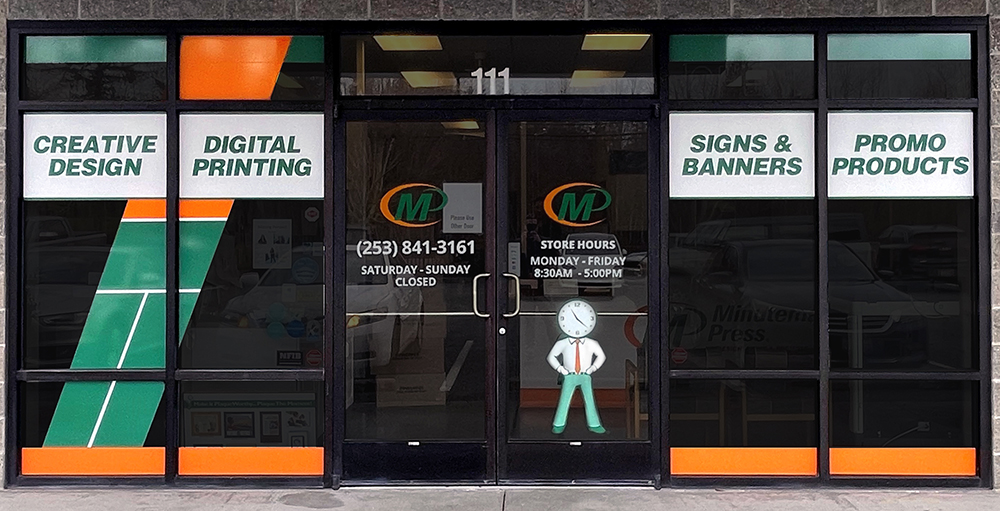 Acquisition of Advantage Graphics
After working thirty-five years in the printing industry and twenty-five-years as husband and wife owner operators, John and Joyce Lee were looking to sell Advantage Graphics. "This was the right time for us to sell. We are looking forward to doing more traveling together," says John.
At first, however, John found it hard to sell the printing business on his own. "Trying to sell on our own was definitely more difficult than we anticipated, especially after the pandemic," he says. "However this did not deter us from moving forward. It also proved challenging to find a buyer that would align our business philosophy with theirs."
John and Joyce ultimately found the right buyer with Aaron Kruger and Minuteman Press.
When Aaron received a letter from Advantage Graphics indicating their interest in selling, he realized this could be a great opportunity to expand the business and reach new clients. With the help of Minuteman Press International Regional Vice President Chris Jutt, Aaron and John were able to come to an agreement on the sale of Advantage Graphics to Minuteman Press in Puyallup.
"We were really surprised working with Minuteman Press," shares John. "They have a large network of stores and a corporate structure, and we found our experience to be very straightforward and transparent. Chris Jutt was very honest with us and helped us to guide through each step to make this deal work. This experience ultimately gave us the confidence to work with Minuteman Press because the trust after the sale was also very important to us. We are grateful."
Aaron adds, "Chris Jutt has been key in the entire acquisition process.  When I received the letter from Advantage Graphics, I texted Chris and within a few minutes he was on the phone and we were moving forward. He constantly made sure that we were all on the same page and that we'd complete the sale and achieve the best result.
"I assumed that an acquisition would be a super stressful situation, but that could not be further from the truth.  Even the entry of all of our new customers was imported into our FLEX software remotely in less than twenty minutes. I have nothing but great things to say about the support during this process."
As for what's next, Aaron concludes, "This is an exciting new chapter for our business, and we are thrilled to welcome clients of Advantage Graphics to Minuteman Press."