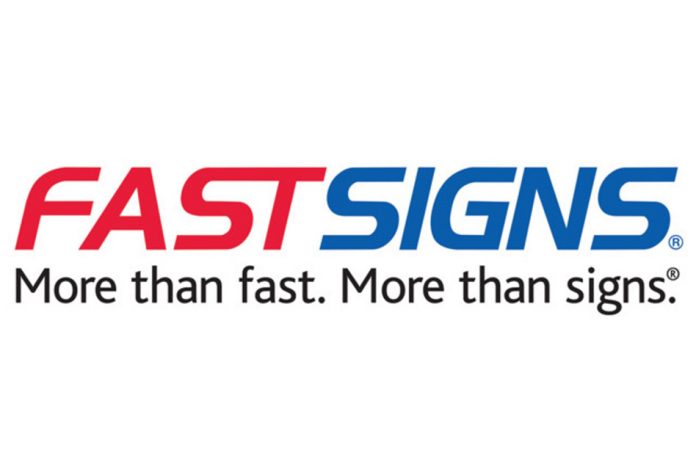 FASTSIGNS International, Inc., franchisor of FASTSIGNS®, the leading sign, graphics, and visual communications franchise, announced today it has been ranked as one of the Top 100 Global Franchises by Franchise Direct.
One of the premier franchise rankings, the Top 100 Global Franchises ranked FASTSIGNS as #33 for its strong sales and growth, international presence, and over 35 years in franchising, among other successes.
"To be recognized among the leading global franchise brands by Franchise Direct for another year is a true honor and testament to our proven franchise model," said Mark Jameson, Chief Support and Development Officer. "With FASTSIGNS centers operating both domestically across the United States and internationally in countries like Canada, Chile and Puerto Rico, we're proud to reflect on how the need for visual communications can be adapted to thrive in any market across the world.
"The dedicated network of franchisees across the FASTSIGNS system allows us to continuously reach new heights and, as we enter our thirty-sixth year of business, our commitment to their success has never been stronger."
FASTSIGNS reported exceptional results in 2020, including the signing of over 31 franchise agreements in the U.S and Canada to develop new, co-branded, and conversion centers and the opening of more than 30 locations, including its first center in the Dominican Republic. Much of FASTSIGNS' success in 2020 can be credited to centers being deemed essential businesses, allowing franchisees to pivot their services to focus on serving their customers.
This year, FASTSIGNS is aiming to sign at least thirty-five franchise agreements across the U.S. in markets such as Southern California, the Midwest, New England, and along the Northeast Corridor. FASTSIGNS is particularly focusing on its co-brand and conversion programs, which help existing business owners add a FASTSIGNS to their store or fully convert their business to a FASTSIGNS franchise. FASTSIGNS has helped countless owners of print shops, photography studios, camera stores, embroidery shops, and more, diversify their product lines and services to meet the growing demand for signs, graphics, and visual communications.
Both the co-brand franchise opportunity and conversion can be started with only $15,000 down on the initial franchise fee.
—Press Release