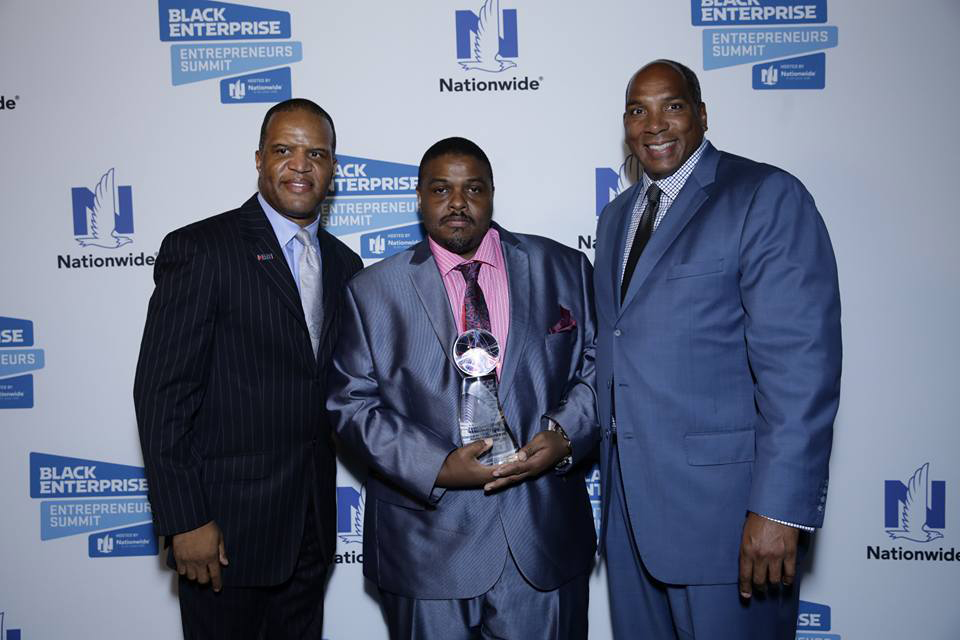 Howard James has owned his FASTSIGNS® store in Washington, D.C., for nearly fourteen years now, yet he still describes working and succeeding in the sign industry as an "everyday hustle."
"Our customers are always looking for solutions that are cost-effective, but they are also looking for solutions that they need tomorrow," he laughs. "That's the hustle of it all. It's a business you have to be an active participant in every day.
"But then if it wasn't, it would probably be a little boring. So that's why I love it!"
Howard James is the owner and operator of the first FASTSIGNS franchise that opened in the Washington, D.C., area, and today his store is one of the leading centers across the entire FASTSIGNS network (which totals more than 725 locations across nine countries).
Interestingly, before opening up his brick-and-mortar FASTSIGNS, James was an art teacher in Washington, D.C. He also hailed from a background in graphic design (doing freelance design work on the side for numerous years) as well as taught theater technology at Duke Ellington High School of the Arts.
His big career move into signage was borne out of necessity back in 2007. James found that he was driving forty-five minutes out from D.C., into the suburbs for a specialty service like signage (which also involved viewing proofs and picking up orders) and then driving forty-five minutes back. "I was thinking, 'Why don't we have one of these here in the city?'" he says. "Back then, the Internet wasn't what it is today."
With his artist-driven background, James figured the sign industry would be a good leap for him, however he admits that, while he knew a few things about the equipment and the products out there, he didn't have a "super-deep background" when it came to starting up a brand-new business. He knew a franchise would be the way to go, so he talked to lots of other FASTSIGNS owners about their stores. "Although they all said different stuff, they said all the right stuff I was looking to hear," confirms James, noting how everyone he spoke with was pleased with the system.
James says a lot of people early on make the mistake of not talking to the other franchisee owners. "Don't go to just one. Don't go to two. Go to ten," he recommends. "See if you can visit and spend a day with them and see if that world is going to work out for you."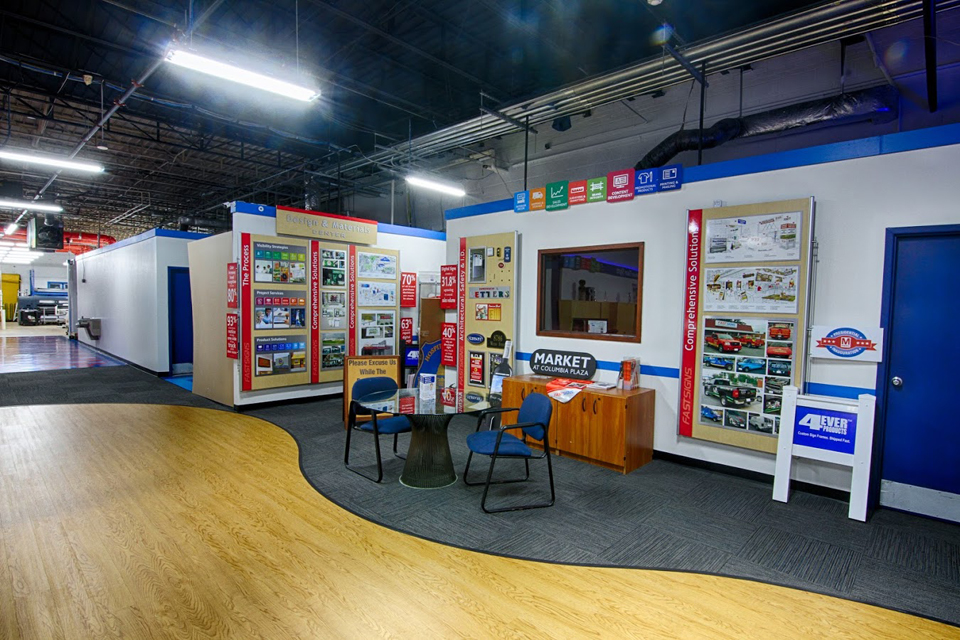 As mentioned earlier, James's FASTSIGNS store ended up being the first one in the city, and he attributes his early success to location, location, location. "There weren't too many sign companies in D.C., anyway," he says, "so it just took off. And I appreciated the training and support I received from FASTSIGNS headquarters to help me make this happen."
Of course, there was more work involved in getting his sign shop up and running—a lot of it involving items potential business owners don't think about at first but still have to do. This involved getting caught up with government regulations and filings such as setting up a Federal Tax EIN number. "When people ask me about starting a business, I tell them, 'Get that organization and paperwork ready," he advises. "Get a bank account in your business name so that you have somewhere to store your cash. Then when you spend it, it's deductible.
"After that, you'll be ready for everything else that comes your way."
James's FASTSIGNS is full-service all the way. "Solutions are what we do," he says. "Whatever you need, we're going to figure it out—whether it's a sign or something atypical.
"When you start out, you think you're going to make banners and basic signs, but every day, we get a call from a customer that we have to ask them, 'You want us to do what?' And we have to figure out what combination of materials and solutions to put together to make it happen. In some ways, it's a headache, but it does keep it exciting."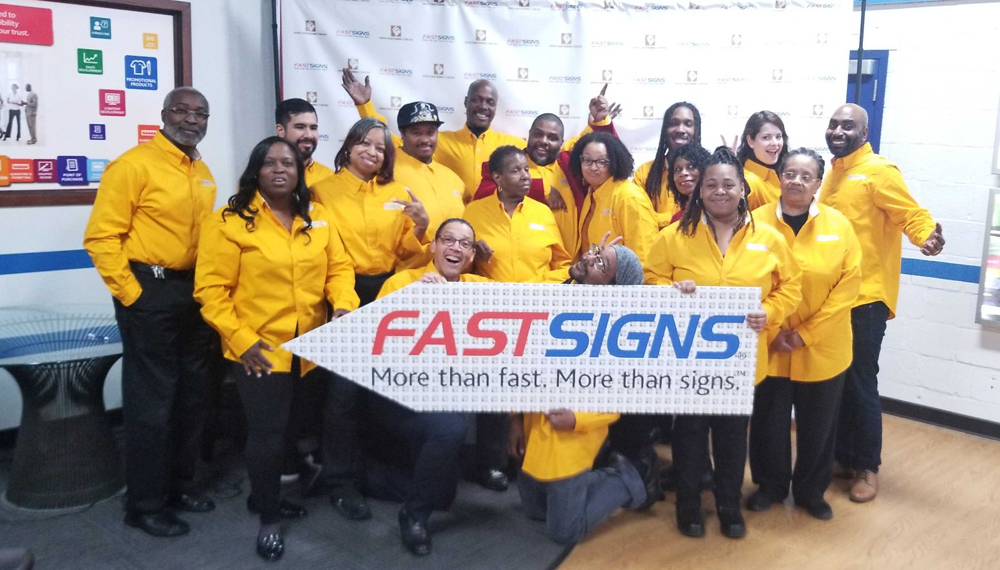 When James opened his FASTSIGNS store in D.C., his initial staff included just three people— himself, a designer, and a front counter sales person. "The three of us just put our heads down, got to work, and grew it," he says, noting they've grown to as many as twenty employees.
Their results have certainly been impressive. Today his current FASTSIGNS is housed in a 10,000-square-foot brick-and-mortar building, and this is actually the store's second location.
James stresses that one thing he advises to other shop owners is the importance of hiring a great staff. "This is not a single-person business. It's a team sport," he says, noting he wouldn't have been able to reach the success level that he has without the employees he's brought onboard.
"Make sure you find, train, and keep a great staff, because they are the key to growth."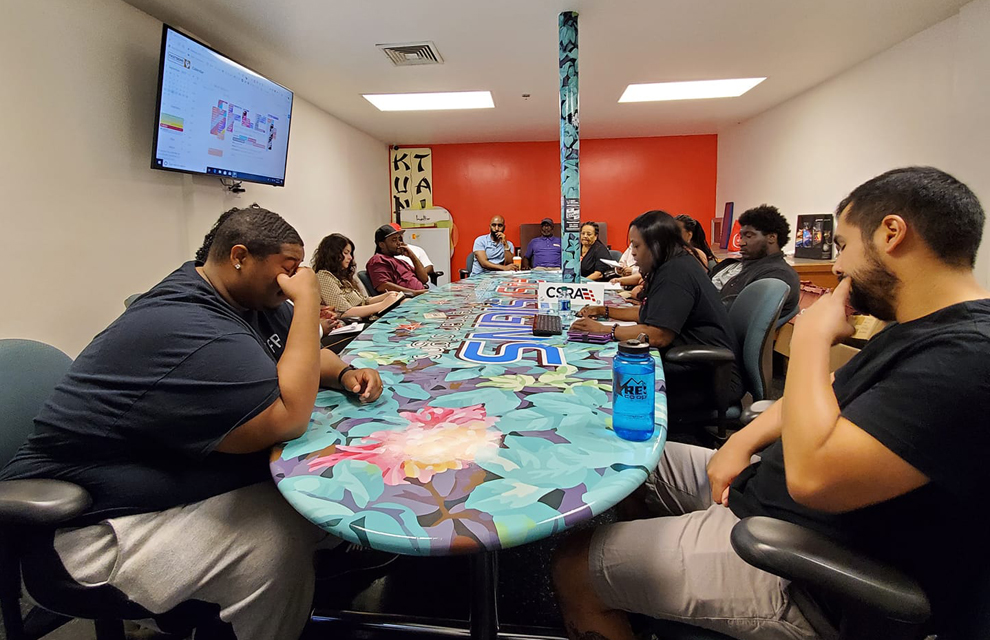 Howard James is an African-American business owner, and his staff is predominantly African American. "We pride ourselves in being a Black-owned and Black-operated company, but we're first and foremost about our customers and offering solutions to them," he says. "It really doesn't matter what we are as long as they're happy."
James says that, although his city is pretty ethnically diverse, unfortunately he has occasionally come across situations where people have been a little surprised when a person of color shows up. "Even though we gave them the right answers, they may not have been comfortable with what they didn't expect. We have to deal with that every day," he says. "On the flip side, there are people that are just happy to see us and are happy to get their signs.
"It's about putting your best foot forward and giving the best service you can. And hopefully that's enough."
One thing James did early on, being in D.C., was getting the proper government certifications. Looking back over his past fourteen years in the industry, James cites two projects that proved a huge boost for his company. The first involved a big government contractor that was in the business of buying up smaller tech companies and rebranding them. "There were a lot of times we'd go into their offices and didn't dare ask what they did," he laughs.
They started out doing one-offs for them. This happened early on after they opened, and after a screw-up on one project, James was proactive and told them they were going to work on it until they made it right. "And we made it right, and they were happy with us for doing so," he says.
The end-result is that James's FASTSIGNS ended up managing and completing three national rebranding projects for this contractor. James credits this contractor as being a great project for them. "They kept coming back to us, since they were very happy with our work," he says. "We set the standard in what they did in the industry. It helped us grow and helped us learn about other vendors and companies all over the country."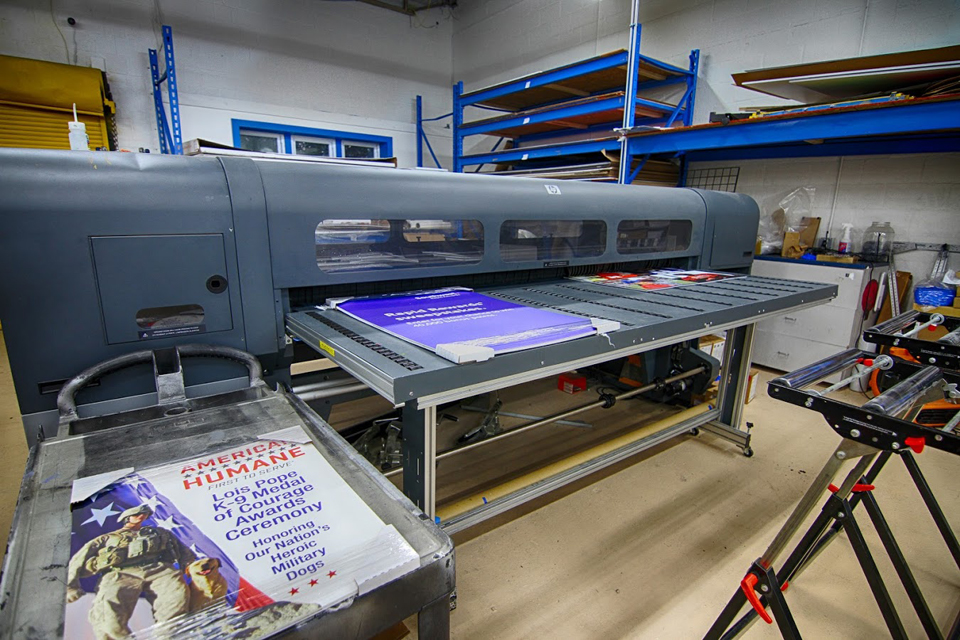 Another project James fondly recalls was the local metro system that runs through D.C., Maryland, and Virginia. They were replacing all the signs at every metro stop—which required tens of thousands of new ones. "We figured out how to make it happen efficiently and cost effectively," he says, "and we were able to get our crews out there to do changes in a remarkable amount of time." (Note: James attributes his background to his shop's ability to figure out cost-effective solutions. "In theater, we were always looking for 'cost-effective,'" he says.)
James says that this metro system project really shifted his store to another level. "And once we reached that other level, we stayed there and kept growing," he says. "As a small company, those are the sort of jobs where you get lucky someone comes to you, and you're in the right place at the right time."
Being full-service, James's shop has most of the toys to keep them going into all sorts of markets—flatbeds, laser engravers, cutters, additive ADA printing, etc. "You'd be amazed how many types of signs and applications are out there and, with just a different combination of materials and solutions, you can figure out most of them," he says. "I invested early on in all our equipment just because we wanted to be able to control what we did—the timing of it and the cost of it. We have some good third-party vendors, but you do find yourself working on their schedule."
James loves doing ADA signage because his shop can get a good bulk of work at just one location. He would like to venture more into interior décor at some point—museum displays, wallpapers, atmospheres, etc. "I really like that kind of work, but again, that's probably my scenic background," says James.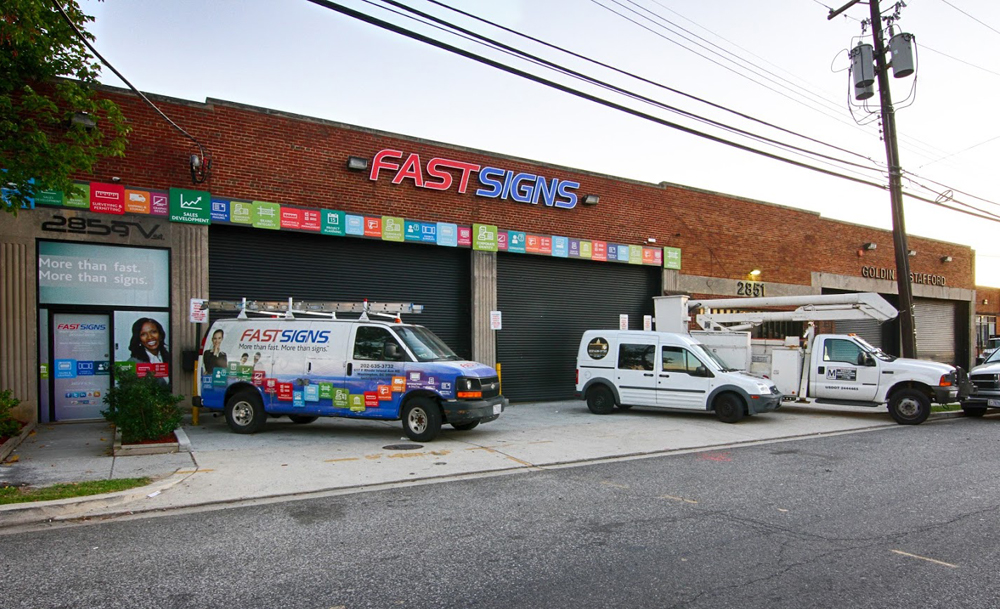 James has found that D.C., is a great installation market, and it's one of the reasons installation plays a big role at his business. In fact, his FASTSIGNS does an average of a couple every day.
They currently have four vehicles—running the gamut from vans to buckets to trucks. "When you work in the city, you have to be flexible and start thinking if you're going to be going into a garage or are you going to carry something that's huge or are you going to need to go up to the second or third floor somewhere," he says.
James says that sometimes they do a "straight-out" purchase on the vehicle because they can sometimes be rough on vehicles. "So we don't necessarily need a brand-new vehicle with what we're going to do with it," he says. "With that and equipment, a lot of times we do a lease-to-own option. It's really about buying it outright and paying for it over time and keeping cash in your pocket."
So while James still finds that doing sign work is an "everyday hustle," he says it's still a great business to be involved in. "People always need signs," he says. "It's quick-paced and service-oriented, and you've got to be ready."
And after fourteen years of successfully running his FASTSIGNS store, signage is definitely now wired into Howard James's system. "I drive my wife crazy when she's driving because I'm telling her to take a look at that type of sign or letting her know that my shop did that sign," he laughs.
—Jeff Wooten