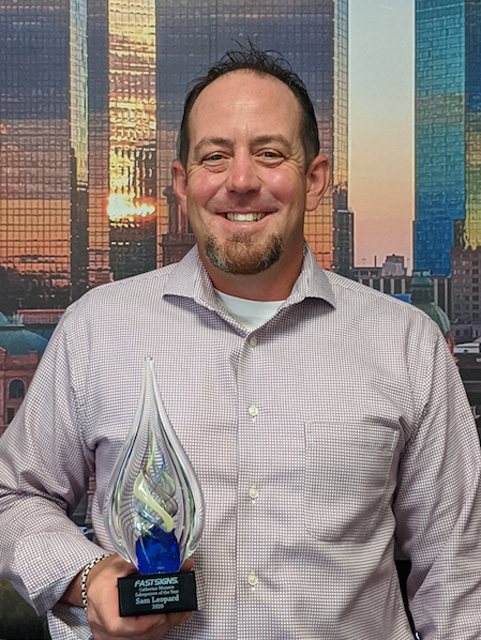 Leopards are well known for being skilled climbers, the agility they possess, and how they symbolically stand for the ability to carry out many tasks simultaneously. For Sam Leopard, a skilled Outside Sales Professional at FASTSIGNS® of Fort Worth – Alliance Blvd, his agility and sales acumen have enabled him to climb to new heights and set himself apart.
At the 2020 FASTSIGNS Virtual Outside Sales Summit, he was awarded the second annual Catherine Monson Salesperson of the Year Award, which recognizes one Outside Sales Professional who best represents the concept and the spirit of the brand, both in the business community and within the FASTSIGNS network. In addition to the highest achievement, Sam also received a Platinum Sales Award for generating record sales from July 1, 2019 to June 30, 2020.
But Sam's career story didn't begin at FASTSIGNS. Originally a horse trainer from Iowa, he spent countless hours traveling for work. Life on the road started to lose its lustre, and he eventually decided that it was time to put down roots in Texas. "I got here as fast as I could," Sam shared with a laugh.
Making Fort Worth his home, he selected sales as a career path, and it has been the perfect fit. The traits that have led to Sam's success are his ability to listen and his desire to truly assist his customers.
"I enjoy being able to help people," said Sam. "Sometimes I get called in the moment of panic when someone feels like the house is burning down. I love coming in with solutions and saving the day."
One of Sam's most recent projects included the luxurious DFW ranch retreat, the Lucky Spur Ranch & Resort. The comprehensive branding solution he delivered encompassed everything from glass boards to steel applications, creative canvases to tradeshow options and even various marketing materials.
Sam's authenticity is seen in the honest and humble way he interacts with others. It appears his years breaking and training horses prepared him with the skills he would need to succeed in sales. He shared the following statements for what he believes is most important when working with people: "What goes around comes around, and treat others the way you want to be treated."
Driven and goal-oriented, Sam is an active member of his local chamber and several boards.
"Sam is a learner who continues to perfect his approach to provide the best product solutions for our customers' needs," said Dan Boykin, franchisee at FASTSIGNS of Fort Worth – Alliance, FASTSIGNS of Fort Worth – Hulen, FASTSIGNS of Fort Worth – Downtown and FASTSIGNS of Fort Worth – Camp Bowie. "He always makes time to share what he has learned with fellow FASTSIGNS sales personnel at home and throughout the FASTSIGNS network."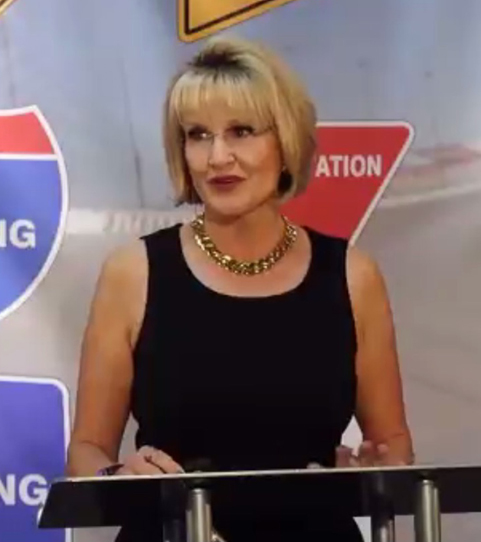 "Sam is strongly focused on building relationships with his customers and solving their visual communication challenges by providing comprehensive solutions to help them achieve their objectives," said Catherine Monson, CEO at FASTSIGNS International, Inc., and chair of the International Franchising Association. "He continually invests in his selling skills and knowledge, while encouraging others to do the same. He sets the standard of excellence and is a true champion of the FASTSIGNS brand."
In addition to his work at FASTSIGNS, Sam Leopard devotes his time to helping others through several charities including the Christian Community Storehouse, which is dedicated to the education and well being of low income children in the community. They provide the basic essentials for children to remain and be successful in the classroom. In 2019, they provided 130,000 services to over 5,000 children. Through Sam's regular involvement with the organization, he brings great value to his local community.
"When people see you doing things out of the kindness of your heart, they notice," said Sam. "While this helps your business, it also helps you grow as a person."
About FASTSIGNS®
FASTSIGNS® of Fort Worth, TX – Alliance is a locally and independently owned and operated sign, graphics and visual communications company that provides comprehensive visual marketing solutions to customers of all sizes—across all industries—to help them attract more attention, communicate their message, sell more products, help visitors find their way and extend their branding across all of their customer touch points including décor, events, wearables, digital signage. and marketing materials. To learn more, call (817) 439-1170 or visit fastsigns.com/388.
—Press Release