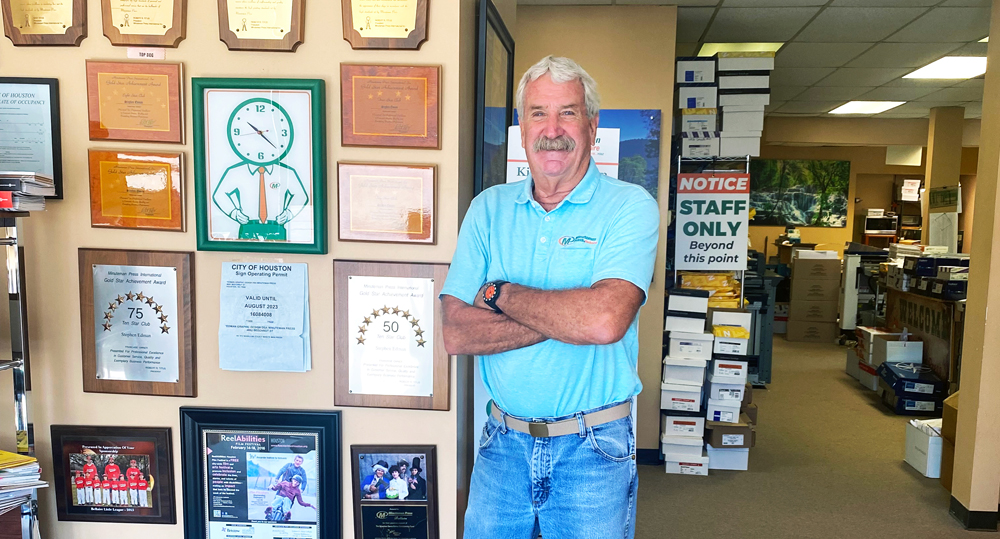 When it comes to operating his Minuteman Press franchise in Houston, Texas over the past fifteen-plus years, Steve Edman keeps it simple and sticks to what has made him successful as a small business owner. "Our success and longevity can be attributed to having fantastic employees—three full-time and one part-time," he says. "I also personally stay proactive with visiting and delivering excellent printed products to our customer base.
"We've grown our business by consistently providing quality print and quick turnaround. We provide all things printing such as booklets and manuals, as well as marketing and mailing services. Whatever our customers need, we can provide."
Minuteman Press in Houston/Bellaire is located at 4662 Beechnut Street; Edman describes his business community as "positive and appreciative." He further shares, "I originally started in the beer business for the largest wholesaler in the world as a Driver Salesman. I retired after twenty-four years as a Regional Manager, and then decided to buy this business.
Thanks to our hard work and building real relationships with our clients, here I am fifteen years later and counting."
Edman also credits being part of the Minuteman Press franchise family for supporting him along the way. "They give me the toolbox to be successful, and I have the choice to pick and choose what will help me succeed in my local market," he says. "I appreciate their local and corporate support teams that are always there for me when I need them."
"I'd like to congratulate Steve Edman for his continued dedication to the Bellaire business community and his clients for over fifteen years. I look forward to continuing to support Steve and his staff as he continues to build his business," adds Erick Rios, Minuteman Press International Area Manager, Houston.
Ultimately, as he reflects on the past fifteen-plus years, Edman is happy with his decision to change industries following his career retirement and buy a printing business. "Printing remains vital today because it puts your products, messaging, and brand directly in the customer's hands," he shares. "We love meeting our clients' needs by providing high quality printed products that help them reach out to and engage with their target audiences.
"I get great satisfaction from making those deliveries and providing the finished products to my clients. I am also very gratified with being able to build my business and reap the rewards."
As for what advice he would give to other business owners, Edman keeps it simple again and offers some poignant advice: "Hit the streets, hire the right people, and always follow up with the customer so you can learn from them. That is what has always worked for me."
—Press Release