This month, we are recognizing those sign makers that we've covered over the past year—either through their business practices or their completed projects—in the pages of our magazine. We selected our Sign Shop of the Year designations through those that we felt not only made an impact with their work featured in our magazine but also following up on additional success they have encounted since.
There were a variety of criteria that determined our editorial choices: in-shop skills, owner-employee dynamics, innovative marketing, community outreach, etc. You will read recaps and additional interviews with these sign makers about their work; explore new details of how they are going the extra-mile in either fabrication, installation, or customer service; and/or learn something new about them (in addition to their projects).
We hope that their efforts will help inspire your shop either to add a new technique or technology, get more involved in the public eye, or tap into a new, profitable market waiting for you.
Each of the following sections features the name of the sign shop, the category in which they are being cited for their work, and the issue date and story title they were featured in. They are numbered in no particular
ranking order.
1. Project Management: North Shore Neon Sign Company, Queens & Deer Park, NY, "Upsizing a Sign," April 2019
North Shore Neon Sign Company's engineering and installation of the mega LED display for McDonald's® was no small feat, but the company is no stranger to big jobs in the big city. They attribute much of their success to experience.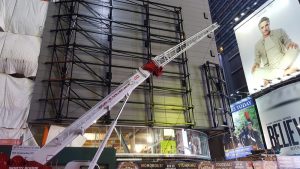 North Shore has been in business since 1954—that's 65 years of sign making! The company is third generation family owned and is currently run by three brothers: Larry, Tom, and David Brown.
"It's all about the people," says Vice President Patrick Dooley. "The most senior people here all have significant field experience. They understand the conditions, [and] they understand what it's like to be out there. They know what the ebb and flow of a job may be. It gives us a unique perspective on the business, and it can't be repeated overnight because of the time needed to invest in that."
As an example, Dooley points to employee Michael Colamussi, who has been with the company for forty years.
North Shore's stellar staff allows them to manage all of their projects internally, without the need for a general contractor. The company is very systematic when setting up a team to handle a project. An account rep serves as the one point of contact between North Shore and the client. From there, work and tasks are split between a number of project managers.
On the McDonald's project, North Shore had to contend with subcontractors, the landlord, the city, operations, the field, fabrication, time management, scheduling, etc., and each category fell under the responsibility of a different senior project manager. "You shouldn't expect that one individual could possibly handle all of that," says North Shore.
North Shore says it's also important to retrieve all of the intel on a project. For this reason, project managers and the account rep meet almost every day to share information and next steps.
Operating in this way also allows the team to be nimble and pivot when delays happen with permits or other elements of the job. When these obstacles do inevitably happen, a sign company should take a positive, solutions-based approach. "You have to think solutions, and you have to have contingencies—if this, then that," says North Shore. "Find out what happened, how to repair it, and how to recover that time."
This is where investing in people pays off. Dooley specifically praises Kevin Schuessler, shop foreman, for his sensible and focused approach to projects, which helps to suss out potential opportunities for failure so the company can get ahead of them. "You need somebody that's pragmatic and says this is where the potential failures are. That is what prepares you most for where you can succeed. So if you're going to grow a sign company, look at yourself as having incremental growth and learn from each and every project," he says. "I think our success has stemmed from the fact that we've had lots of failures, but we've learned from them, and as a result, we've grown from them."
2. Community: Sign Pro Inc., Plantsville, Connecticut, "Solar Powered," February 2019
We covered Sign Pro's efforts to turn their new 40,000-square-foot facility into a lean manufacturing facility. However it's the business-related developments after that story ran that urther cemented their importance to not only the sign community but also to local businesses.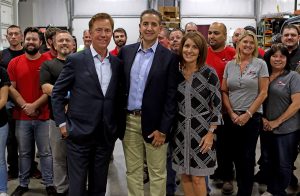 Over the summer, Sign Pro President Peter Rappoccio and his employees welcomed Connecticut Governor Ned Lamont to their facility to discuss items made by manufacturers in the state related to State House Proposed Bill No. 5504, "An Act Concerning the Net Economic Value of State contracts." The bill was drafted in the 2019 legislative session and recommends that the state hire Connecticut businesses on contracts using state funding as part of state contracting practices.
After not managing to make the floor of the Connecticut general assembly in the House of Representatives for a vote this year (due to lack of time), manufacturers anticipate the bill will be brought before the legislature in the next session, a fact encouraged even more after Governor Lamont's eye-opening visit.
Rappoccio has gone to bat for businesses of all sizes in his state. He and his staff brought up to the governor that the state's Business Council features no representation from small businesses on it. After this talk, it is a possibility that Rappoccio could be considered to take part on this council moving forward, once the state session reconvenes in January and considers an informed decision.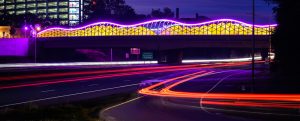 Rappoccio is very friendly with all the local officials and decision-makers in the areas where his company does business. He recently joined New Britain Mayor Erin Stewart, local legislators, and members of the community in celebrating the grand opening of the new Beehive Bridge, a gateway-to-the-city project two years in the making.
Sign Pro served as a subcontractor to Martin Laviero Contractor for this project and fabricated the bridge's façade, which includes two bees at each bridge entryway; the Beehive in the center of the bridge; the 604 geometric shapes that make up the bridge wall; and the integration of multi-color, low-voltage themed LED lighting. The structure stands 16 feet high and is connected by 138 vertical beams supporting the structure.
His work with local and state officials is making quite a name for Rappoccio, as well as improving his customers' and employees' lives and careers.​ He firmly believes that, if workers enjoy where they reside, there's a better chance of attracting top-tier talent to your company. "We are very fortunate that we are located in Connecticut," Rappoccio told us, "since our state has a highly educated workforce. We have an excellent quality of life."
3. Project: Barlo Signs, Hudson, New Hampshire, "Return of the Cactus Sign," March 2019
Barlo Signs is a fifty-year-old, full-service sign company that worked with New England Sign Supply to restore the Frank Giuffrida's Hilltop Steak House restaurant sign for a new retail/residential property. They replaced 2,500 feet of green color tubing and 210 fluorescent lamps with 4,100 total feet of green and white LED modules. The public press conference of its relighting in December 2018 drew state and local officials impressed and newspaper and television coverage.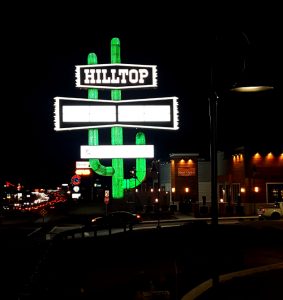 Co-owner Raymond Brayton (who purchased Barlo Signs two years ago with Patrick Assioun and Phillipe Dame) has reinvigorated the fifty-year-old sign company. "To take a fifty-year-old sign and not have to redo any of the steel and working with all the existing formed panels and pulling off what we were able to pull off is quite frankly a pat on the back for us," he says.
Brayton had industry experience before taking over Barlo Signs and worked with companies like Heath, AdArt, Paxon, and YESCO on unique projects like the original Freemont Street Experience.
Brayton says, unlike vinyl shops, there aren't many full-service sign contractors in their area. "In the Boston market, we're involved with much of what happens," he says. "We are extremely well known, our brand is well known, and that's why it was exciting to purchase the company last year and see if we can take this into the next fifty years."
4. Marketing: Signs By Van, Salinas, California, "Peacock Blue," May 2019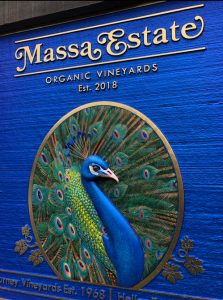 Signs By Van used a mix of modern and long-time technologies and materials—for example, an SCM Morbidelli M-100 CNC router, Duna-USA CORAFOAM® HDU, western red cedar, Fusion 360 CAD software, Hartco S930 30m sandblast stencil, and a Roland GX-400—to create a double-sided peacock identity sign for Massa Estate in Carmel Valley, California.
The company opened in 1981, and today, the ten-person shop, co-owned by Phil Vanderkraats and his son Jeremy, uses old-fashioned craftsmanship with new technologies to transform the Central and Northern California landscape. Most everything Signs By Van does is made in-house and in-facility from site surveys, design, fabrication, installation, etc.
A successful marketing tool to show off their portfolio of work has been their Instagram (@Signs_By_Van). They also recently launched "Signing the Gold Coast," a YouTube reality series that explains what they do at their shop and spotlights projects and fabrication tips.
5. Humanitarian: BPGraphics, Phoenix, Arizona, "Wraps: A Good Cause and Effect," August 2019
BPGraphics started out in 1961 as a billboard/poster company and changed their name in the early 2000s to reflect a move toward large format graphics. This past summer, the graphics specialists printed and installed a wrap onto a Phoenix Valley Metro Light Rail train and bus for the "Summer of a Million Meals," a season-long campaign raising awareness for the United Food Bank.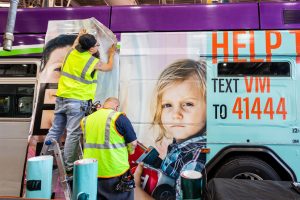 "We stand behind our community, and any chance we can be a part of something we believe in is always a bonus," says Ian Scott, owner of BPGraphics. "We feel honored they came to us."