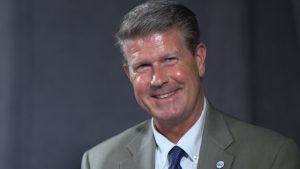 The Specialty Graphic Imaging Association (SGIA) announced that longtime printing industry marketing and sales executive Jack Noonan has joined the organization as vice president of business development. In this newly created role, Noonan will oversee PRINTING United exposition exhibitor and sponsorship partnerships for SGIA, strengthen existing communities, develop dedicated postal and packaging sector participation, and help explore new business opportunities for the leading annual event in the combined graphic arts industries.
PRINTING United is the most comprehensive printing industry expo and event showcase in the Americas and takes place in Atlanta on October 21-23, 2020.
"Jack has been a major supporter of SGIA and NAPCO Media for years," says Mark J. Subers, president – exhibitions and events, SGIA/NAPCO Media. "While we've always considered him an extension of our team, we are pleased to be able to officially welcome him on board. His knowledge of the industry, extensive relationships, and business acumen will help in our collective efforts in continuing to serve the industry and build a future of new opportunity for everyone in the marketplace."
Noonan's industry experience extends from entrepreneurial Adobe-funded Silicon Valley ventures to enterprise roles with organizations such as Eastman Kodak. He most recently worked with MGI and global partner Konica Minolta on international marketing and business development initiatives. He has held positions in the printing and packaging industries for over 20 years. He also co-founded a postal intelligence and mailing data analytics firm called "Is It There Yet?" that, for 10 years, worked closely with the United States Postal Service (USPS). Noonan also serves on the USPS Mailers Technical Advisory Committee and the TLMI Marketing Committee, among other industry association involvement.
"It is an honor to join the nonprofit, mission-driven SGIA organization at such a vital time in our industry," says Noonan. "I've had the pleasure of working with both the SGIA and NAPCO Media teams throughout my career. So, this is a natural evolution of participating in their vision and strategy for the printing marketplace. SGIA and NAPCO Media brought the printing industry together last year with PRINTING United in an unprecedented way. With our team's support, I hope to grow the audience and establish strong, long-term alliances, particularly across the postal and packaging segments."