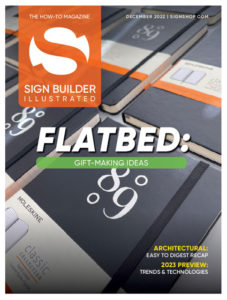 The December 2022 issue of Sign Builder Illustrated might feel a bit inspired by Dickens's A Christmas Carol, as we put the spotlight on the trends that developed over the past year while focusing on those sign makers need to pay attention to in 2023, in an effort to help them today. We're providing plenty of these answers in the fields of print, graphics, dynamic digital signage, and more.
We're also checking out how sign shops and graphics providers are utilizing hot technologies such as flatbed printing and LED lighting to increase their design creativity and expand their customer base.
Plus we have a couple of how-to columns that will help you get ahead of the curve in-shop for a possible economic recession and explain how few small adjustments in your business thinking can lead to giant leaps in your business and profits.