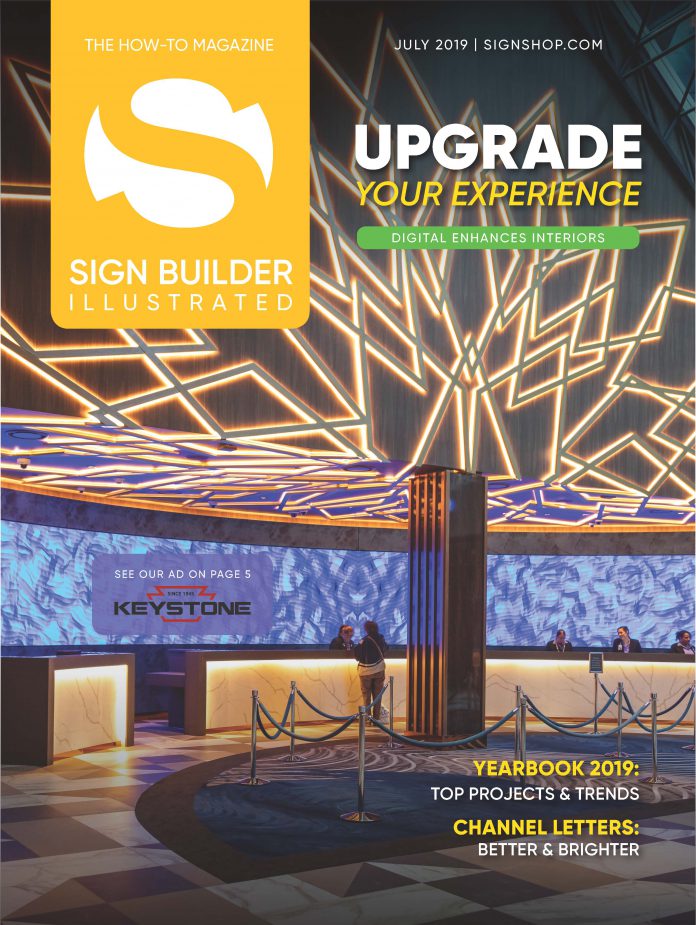 In This Issue
Features
EFFECTIVE DESIGNS
Cloud Gehshan prospers with research then design.
SBI YEARBOOK
The top sign industry projects and trends covered over the past twelve-plus months.
GAINING PULL
The market for flexible magnets is attractive.
CHANNEL LETTERS: BETTER & BRIGHTER
Efficiencies and innovations in the channel letter space.
DRAMATIC DIGITAL LANDSCAPES
Curved LED display allows casino to engage guests
with stunning visual content.
Departments
EDITOR'S COLUMN
Editor Jeff Wooten provides details about our Yearbook special and adds some extra trends/insights to it.
IN THE INDUSTRY
A recap of the ISA and SBi's Women Leading the Industry's kickoff panel.
Sign Show
The newest products and services from sign manufacturers.
SBI Marketplace
Advertisements and announcements from the sign trade.
Shop Talk
Rich Reamer explains how printing in-plants need to continue growing,
in order to help customers capture consumer attention through print.
How – To Columns
Delivering BIG Props
Larger-than-life props and unique installs define one sign company.
CHOOSE YOUR CUSTOMERS WISELY!
Selling cheap to win a deal will run you right out of business.