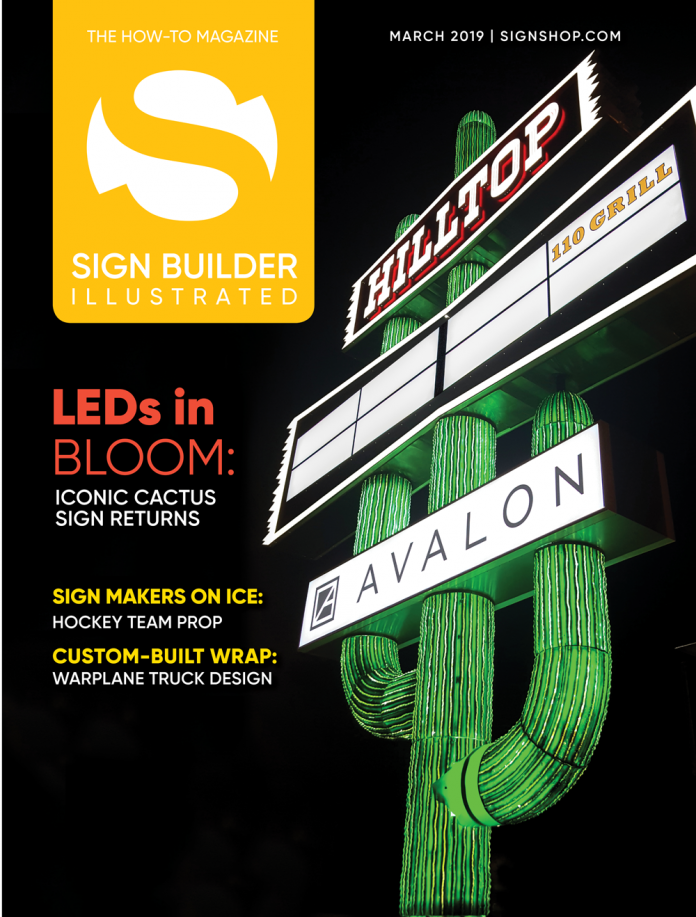 In This Issue
Features
RETURN OF THE CACTUS SIGN
A classic iconic sign is back in action.
BUILDING A BETTER CONTRAPTION
Sign company delivers a "Rube Goldberg Experience"
for charity.
ALL ABOUT ADA INSTALLS
How to prepare for an ADA install.
Departments
EDITOR'S COLUMN
The ISA and SBI are teaming up for the WLI iniitiative, and Editor Jeff Wooten has details about this.
IN THE INDUSTRY
EFI Connect celebrates twenty years, and a graphics specialist provides color and privacy to office windows.
Sign Show
The newest products and services from sign manufacturers.
SBI Marketplace
Advertisements and announcements from the sign trade.
Shop Talk
Help is on the way! David Hickey discusses the combination of inspiration and information.
How – To Columns
SIGN MAKERS ON ICE
Creating a giant-sized goalie mask for a hockey team.
A CUSTOM-BUILT WRAP
A new '40s warplane wrap aims to exceed expectations.
JOB COSTING, PART ONE
No one can afford to make pricing mistakes.