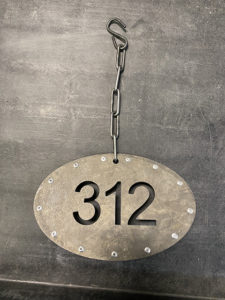 Real estate development and management firm Mandel Group recently approached Sign Effectz, Inc., a custom sign manufacturer based in Milwaukee, Wisconsin, about fabricating and installing a wide variety of signage for their then-soon-to-open SoNa Lofts apartment community in West Allis, Wisconsin.
The new SoNa Lofts has been designed as a mix of modern interpretation and "industrial chic"—taking inspiration from the historic industrial buildings that were a major part of the area's landscape history. Mandel Group collaborated with Sign Effectz (who prides their work being "Built for Resilience") on various design ideas that would complement the property and drive conversation about the aesthetics.
Timing-wise the sign project had to be divided into phases.
Since the occupancy inspection dates were fast approaching after the groups' initial discussions, the more-immediate attention turned toward delivering custom ADA signage for the property.
"Recognizing that the building complex has a modern industrial theme, certain materials were chosen to fit the aesthetics of the building and the Mandel Group's vision," says Adam Brown, president of Sign Effectz. "This led to a unique sign design."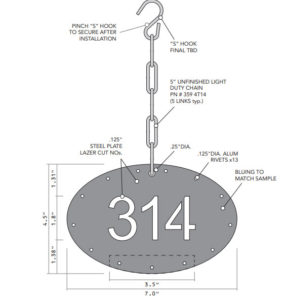 Sign Effectz produced 300-plus steel-plated ADA interior room identification signs for the property's interior. These unit ID signs were designed to blend in as much as possible with the SoNa Lofts surroundings while still remaining compliant. "We walked the fine line of compliancy and cool creative design with this one," says Brown.
The local ADA code required a backer panel be added to the steel plates, so Sign Effectz made these out of acrylic. "This is our go-to primary material for interior wayfinding and ADA signs," says Brown.
Sign Effectz mounted these metal-looking, ADA-compliant unit ID signs to the interior walls near each door using 3M double VHB tape.
But the signage experience does not end there. Each apartment features a unique roofline and high ceilings. This permitted Sign Effectz to get a little more creative—and more exciting—with what they were producing.
They convinced Mandel Group to let them create and install accompanying chain-hung metal signs throughout the facility that were inspired by the popular retrofuturistic-inspired-by-nineteenth-century steampunk aesthetic.
Before proceeding with production, Sign Effectz vetted all the finish and fabrication techniques for these metal signs—everything from rust samples and hammered metal to wide flange nuts, bolts, and rivets. "One needs to be passionate about the creative process and not just rush it through," says Brown.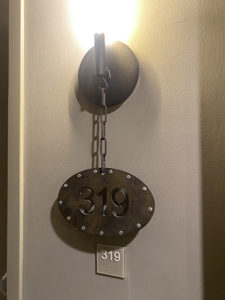 Sign Effectz crafted a laser-cut steel plate with a gun-bluing finish and then meticulously placed bold "mule"-style, 0.125-inch aluminum rivets around the room ID number on it. "It's as if it was forged in the fiery depths of Mordor by a steampunk dwarf. That's the type of visions we have here," wrote Brown in his blog about the project.
The company used a light-duty chain to attach each four-and-a-half-inch-tall steampunk metal signs to the sconce light fixtures, while the ADA-compliant unit ID wall signs rest below them. A pinched "s" hook at the chain's top secures it to the light fixture.
One trend that Brown and his designers at Sign Effectz have noticed growing popular when it comes to ADA is adding dimension and texture to develop multi-layered signs.
According to Brown, this trend can add a wider range of creative freedoms without breaking the bank. "A second and third layer of acrylic for added dimension and shape can be paired with second-surface prints," he says. "Adding interior dressings, textiles, metals, plastics, etc., around an ADA-compliant sign can make for big wins and keep a project from being complacent with standard text and Braille signs."
Upcoming phases of this ongoing project involving Sign Effectz will include illuminated exterior signs, a rooftop set of channel letters attached to a steel frame, and three on-property custom monument signs.